Apollo's longer selection of the year's most important museum acquisitions will be published in the December 2021 issue
Château de Versailles
Bust of Georges Mareschal (c. 1700–10), François Girardon
The pre-eminent French sculptor under Louis XIV, François Girardon completed a number of major commissions for the palace and gardens of Versailles. The sober, classicising restraint of his sculptures – contrasting with the exuberant baroque style of his rival Bernini – soon came to be seen as typically French, and is amply evinced in the features of this marble portrait bust of Georges Mareschal, surgeon to the king. One of very few surviving portrait busts by Girardon, it was acquired from Stuart Lochhead at TEFAF Maastricht.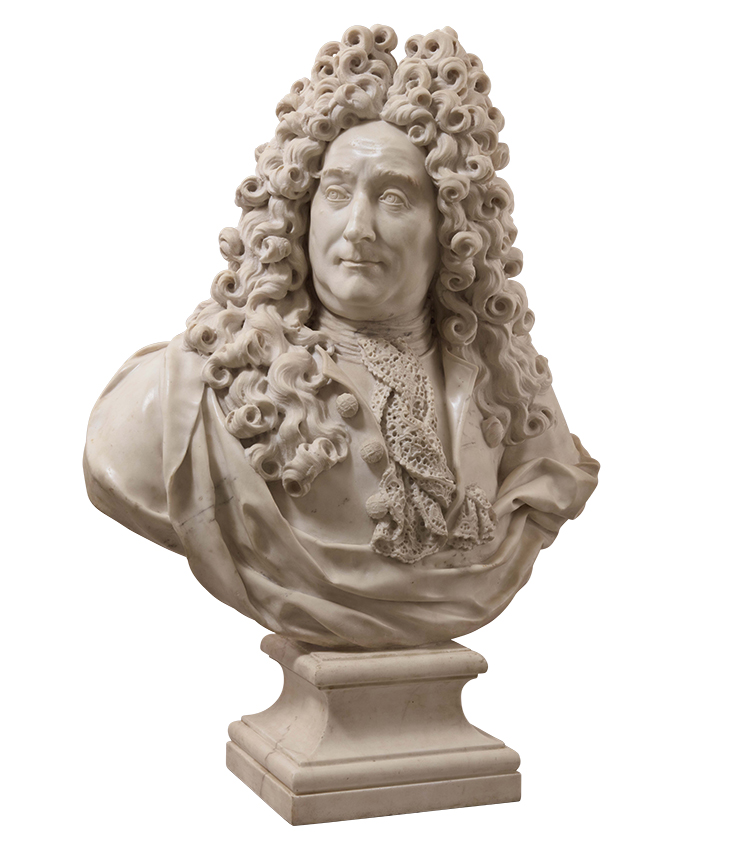 Bust of Georges Mareschal (c. 1700–10), François Girardon. Photo: © Christophe Fouin/Château de Versailles, Dist. RMN
Galleria Borghese, Rome
Country Dance (c. 1601–02), Guido Reni
This newly reattributed landscape scene with festive revellers has few parallels in the known oeuvre of Guido Reni. An early work, it shows Reni experimenting with the Bolognese style of the Carracci brothers, which he would soon abandon in favour of the graceful religious and mythological works on which his reputation rests. Acquired from the young artist by Scipione Borghese – an important patron – it was mentioned in the inventory of the Palazzo Borghese collections in 1693, but has been lost until now; purchased at TEFAF last March, the painting returns to the Galleria Borghese for the first time in centuries.
Metropolitan Museum of Art, New York
91 pieces of arms and armour from the Ronald S. Lauder collection
Over the last four decades, the American businessman and philanthropist Ronald Lauder has amassed one of the most significant collections of arms and armour in the world. His relationship with the Met dates back to his early twenties, when he began collecting with the help of the museum's then curator of arms and armour, Stephen Grancsay, and he has since loaned numerous objects to exhibitions and long-term displays. Among the works included in this landmark gift are a piece of 17th-century Tuscan field armour made in a Medici workshop – one of only two known examples of its kind.
Museum of Decorative Arts, Prague; National Gallery Prague; National Museum, Prague; Moravian Gallery, Brno
More than 2,000 photographs by Josef Koudelka
Speaking at the Czech ministry of culture in September, Josef Koudelka stated: 'I wanted there to be one place in this world, if somebody wants to see my pictures, they can come and see the best examples of my pictures. When I considered where this place should be, I thought it must be the country where I was born.' His donation of more than 2,000 photographs to these four Czech museums has transformed the national collections of his oeuvre into the world's best; works range from his famous images of the Soviet invasion after the Prague Spring in 1968 to his experiments with panoramic photography since the 1980s.
Muzeum Bursztynu, Gdansk
Chess set (c. 1695), Michel Redlin
Complete amber chess sets with workmanship that approaches the quality of this example tend to be found only in a few public museums formed of princely collections. It was through comparison with a set held at Rosenborg Castle in Copenhagen that the gallery Kunstkammer Georg Laue was able to identify this box and board with chessmen as the work of Michel Redlin of Danzig, one of the foremost amber artists of his day. The box is adorned with engraved amber plaques depicting all manner of genre scenes, emblems and animals, while from its corners rise small amber fruit bowls; once owned by the Dukes of Atholl at Blair Castle, it is now one of the star exhibits at the recently reopened Muzeum Bursztynu (Museum of Amber) in Gdansk.
National Gallery of Art, Washington, D.C.
40 works from the Souls Grown Deep Foundation
Among these 40 works by 21 Black artists from the American South are nine quilts by the artists of Gee's Bend, seven works by Thornton Dial, and four sculpted heads by James 'Son Ford' Thomas. Acquired directly from the Souls Grown Deep Foundation, the pieces represent a significant expansion of the NGA's holdings of modern and contemporary African American art.
Pallant House Gallery, Chichester
175 works from the collection of MJ Long and Colin St John Wilson
R.B. Kitaj's affectionate portrait of 1981, The Architects, depicts MJ Long and her husband Colin St John Wilson in the home that Long had just redesigned for the painter; Kitaj was one of many leading British artists with whom the couple were friendly over the course of their lives. Together they amassed one of the most significant private collections of post-war British art, including celebrated works by the likes of Frank Auerbach, David Bomberg, Prunella Clough and Eduardo Paolozzi; some 175 of these paintings, prints and sculptures ­– including Kitaj's double-portrait – have now been allocated under the Acceptance in Lieu scheme to Pallant House Gallery, for which the couple designed an extension in 2006.
Rijksmuseum, Amsterdam
Calvary (c. 1390–1400), Claus Sluter and workshop
Until recent research into this boxwood figural group, only three works have been firmly attributed to Sluter, who has been hailed by art historians since the 19th century as the originator of the first distinctively Dutch style of realist sculpture. All three are large-scale pieces that remain in Dijon, where he was court sculptor for Philip the Bold (they include the funerary monument of the Burgundian duke). The piece was purchased in March, and the new attribution – which makes the Rijksmuseum the first Dutch museum to house a work by 'the father of Dutch sculpture' – announced in August; it depicts Christ on the Cross, flanked by mourners and with a lioness nursing her cubs in a crook at the bottom of the arbor crucis.
The Shortlists | Artist of the Year | Book of the Year | Digital Innovation of the Year | Exhibition of the Year | Museum Opening of the Year
Recommended for you