Keep an eye out for these films and books with an art-historical twist over the next few months.
Films
The Electrical Life of Louis Wain, dir. Will Sharpe
Benedict Cumberbatch takes on the role of eccentric British artist Louis Wain, who worked for the Illustrated London News before finding fame with his drawings of anthropomorphised cats. Read Apollo's feature on Wain, who died in 1939 in a mental hospital in St Albans, here.
The Souvenir Part II, dir. Joanna Hogg
This sequel to Hogg's autobiographical film of 2019 sees Honor Swinton Byrne as Julie, continuing on her film-making path towards graduation (with Byrne's real-life mother, Tilda Swinton, reprising her parental role – and taking up pottery classes). The Wallace Collection may not have the significant cameo it had in the first film, but the presence of Julie's troubled first love is still felt as she works to find her own artistic voice.
The Duke, dir. Roger Michell
Michell's last film before his untimely death last year is based on real events from 1961, when Kempton Bunton – a pensioner from Newcastle (Jim Broadbent) – allegedly stole Goya's portrait of Wellington from the National Gallery. An art heist with heart.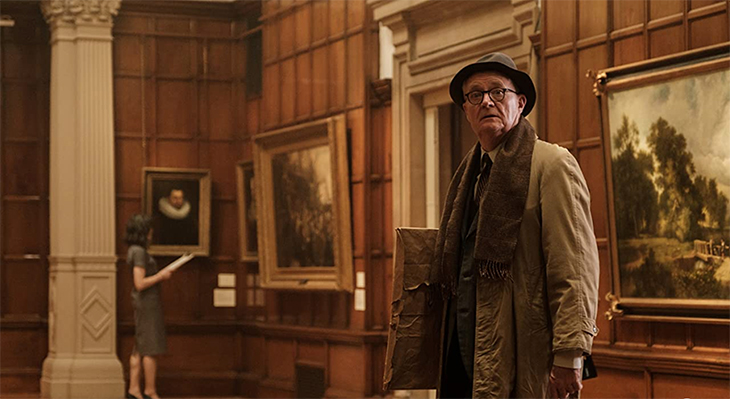 Compartment No 6, dir. Juho Kuosmanen
Ancient petroglyphs are ostensibly the reason Laura (Seidi Haarla), a Finnish archaeology student, finds herself on a long train journey from Moscow to Murmansk, which is also where her boorish fellow passenger Ljoha (Yuriy Borisov) is headed, to find work in a coal mine. Cultural and class tensions begin to thaw as they head north of the Arctic circle.
Radiograph of a Family, dir. Firouzeh Khosrovani
This Iranian director looks to family photo albums to tell the story of her parents' marriage in a documentary about Iran's societal and religious divisions, with the Revolution of 1979 at the centre of the film.
Mrs Harris Goes to Paris, dir. Anthony Fabian
Lesley Manville and Isabelle Huppert star in this new adaptation of the 1958 novel by Paul Gallico, telling the story of a widowed cleaning lady in London who becomes obsessed with owning a couture Dior dress. Need we say more?
Books
The Exhibitionist
Charlotte Mendelson
Pan Macmillan
The artistic ego approaches monstrous proportions in this story of a family coming together over a weekend in the lead-up to patriarch and artist Ray Hanrahan's first exhibition for several decades.
Pure Colour
Sheila Heti
Penguin
Ellsworth Kelly's lithograph Green (Vert) from 1964–65 graces the cover of Heti's latest novel, which pictures our world as a first draft 'made by some great artist, who is now getting ready to tear it apart'.
Bacon in Moscow
James Birch
Cheerio
Mounting an exhibition is always a perilous affair – but particularly when you're a young British curator attempting to stage a show of Francis Bacon's work in Moscow in 1988, amid Soviet attachés and KGB honey-traps. This is a curator's memoir more thrilling than most.
The Real and the Romantic: English Art Between Two World Wars
Frances Spalding
Thames & Hudson
Previous books on Roger Fry, Vanessa Bell, John Minton, Duncan Grant, Gwen Raverat and the Pipers stand Spalding in excellent stead for a reassessment of art from the interwar years.
The Story of Art without Men
Katy Hessel
Cornerstone
This book has evolved from the Instagram account @greatwomenartists which curator and broadcaster Hessel started in 2015. It includes names that have rightly been given renewed or more serious attention in recent years – such as the Renaissance painter Sofonisba Anguissola – as well as many, from Latin America to Nigeria to Japan, who have not.
Novelist as a Vocation
Haruki Murakami
Harvill Secker
Murakami has reworked for a wider audience a collection of essays first published for the Japanese literary magazine Monkey, and they include his musings on art as well as literature and music, and the connections between them.
Unlimited access from just $16 every 3 months
Subscribe to get unlimited and exclusive access to the top art stories, interviews and exhibition reviews.
Recommended for you