Once demonised as bankrupt and crime-ridden, New York in the 1970s now holds mythic status as the site where so many of today's most significant cultural trends first emerged. There's persuasive evidence to support this sharp reputational shift: this was the moment when post-industrial architecture led to new forms of loft living; it was the era in which performance, film and installation became central features of contemporary art; and it's where more fluid notions of gender and sexuality were evolving in pulsing clubs and decaying factories. The cast of characters involved in these developments is rich and familiar: Patti Smith and Robert Mapplethorpe holed up in the Chelsea Hotel; Gordon Matta-Clark slicing through warehouses and Trisha Brown dancing on the rooftops; Grandmaster Flash scratching records in the Bronx while Philippe Petit strolled on a high wire between the Twin Towers.
Among the seminal New York moments of this decade was the 1977 exhibition 'Pictures' held at Artists Space. This was a small group show, featuring work by the likes of Sherrie Levine and Jack Goldstein. It has subsequently become a key marker in the emergence of postmodernism, displaying techniques of appropriation and self-conscious image-making that would bring fame to other members of the so-called 'Pictures Generation', such as Cindy Sherman and Barbara Kruger. Indeed, on the 30th anniversary of the show in 2007, Nancy Spector claimed it was a paradigm-shattering exhibition to rival the unveiling of Futurism in 1912.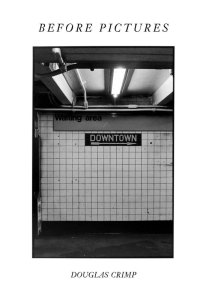 The curator of 'Pictures' was the American critic Douglas Crimp. In Before Pictures, his remarkable new memoir-cum-cultural history, Crimp provides an account of New York in the '70s that's in keeping with the shape-shifting, category-defying nature of the art produced in the city at that time. There can't be many books that combine a formal analysis of mathematical patterns in Agnes Martin's painting with gems such as 'I had been early to take up roller disco.'
Born in 1944, Crimp grew up in a small town in Idaho, where his prom date was novelist Marilynne Robinson, before escaping to study art and architecture in New Orleans. He moved to New York in 1967, where he quickly became an art-world insider, hanging out with Joan Jonas and Richard Serra, partying at John Ashbery's apartment, and engaging with a scene where Abstract Expressionism was losing its dominant status. The five sections of Before Pictures are named after Crimp's addresses in Manhattan, and each begins with a beautiful black and white photograph of a building he lived in, taken by the artist Zoe Leonard.
The unique blend of anecdote, criticism, and history that Crimp uses to assess this time – what he suggests might be a 'queer structure' bringing together 'apparently incompatible subjects' – is exemplified by an extraordinary opening section centring on the Guggenheim Museum. Over 30 lavishly illustrated pages, Crimp weaves together a sequence of stories and analysis that includes memories of his work as a junior curator at the institution, a close reading of Daniel Buren's work and particularly the controversial removal of his enormous Painting-Sculpture from the Guggenheim in 1971, and a history of how green and magenta have been juxtaposed in various cultural forms. It's almost as if the chapter's narrative form echoes the spatial arrangements of the Guggenheim's famous spiral ramp, as Crimp's disparate tales circle and seamlessly flow around a central core.
Later chapters follow a similar path, with memorable accounts of the author visiting Agnes Martin in New Mexico – the painter's 'odd, gnomic' conversation is said to be both 'assertive and tentative at once' – and of Crimp's brief romance with Ellsworth Kelly. The latter section also somehow incorporates reflections on the fashion designer Cristóbal Balenciaga, memories of the Watergate scandal, details of trips to Italy and France, and a precise critical discussion of illusionism and colour in mid-century painting. In less skilled hands, such a wide frame of reference might become incoherent, but Crimp's prose remains elegant and controlled throughout. He also demonstrates admirable honesty when it comes to his own critical judgements, describing various positions he took in the '70s as 'cringe-worthy', 'embarrassing' and driven by 'ill-informed snobbery'.
Perhaps the most evocative section explores Crimp's experiences of the early days of disco. He reproduces chunks from an unfinished attempt he made to describe this new phenomenon, which includes a wonderful depiction of the dancefloor at 5.30am. 'You pass a point where you're beyond tired, beyond pain, beyond even thinking about stopping,' he writes, 'thinking only that this could go on forever and you'd love it. It's pure ecstasy. Nothing matters but disco, and nothing – not sex, not food, not sleep, nothing – is better.'
The disco chapter, as well as Crimp's descriptions of the downtown cruising scene and the sexual experiments undertaken on Manhattan's rotting piers, epitomises his attempts throughout this era to negotiate divisions between 'the art world and the queer world'. Given the invaluable history this book contains, we can only hope that Crimp will offer a second volume of New York tales, extending his assemblage of personal and cultural analysis into the 1980s, when he combined an editorial position at the journal October with a prominent role as an AIDS activist.
For now, New York in the 1970s seems certain to continue its grip on contemporary culture, however mythic the images become. As Crimp remarks: 'We glimpse the city in pieces, in the background, in our peripheral vision – and in recollection.'
Before Pictures, by Douglas Crimp, is published by University of Chicago Press.
From the December issue of Apollo. Preview and subscribe here.
Recommended for you