From the July 2022 issue of Apollo. Preview and subscribe here.
Some cookery books are as much chronicles as they are practical manuals. None more so, perhaps, than Claudia Roden's The Book of Jewish Food (1996), at once an expansive history of the Jewish diaspora and a gathering of its manifold culinary traditions, from the complex holiday dishes of the old communities in Baghdad and Aleppo to the brisk specialities of New York delis. Roden (b. 1936) devoted 16 years to researching the book, travelling, tasting and collecting recipes. Its scope would prove revelatory.
For an anglophone audience to whom Jewish cuisine had come to mean, if anything, a few staples of the Ashkenazi kitchen (gefilte fish, potato latkes and the like), Roden also set out the diversity of Sephardi cooking as it had developed in Livorno or Essaouira, in Aden, Mumbai or Samarkand. No one had previously brought together such seemingly disparate recipes, but Roden described with unfailing sensitivity how types of Jewish experience had informed them: she noted when the choice of cooking fats for certain dishes, for instance, had been dictated by kashrut (dietary laws), or which recipes carried the memory of forced or planned migrations. 'Jewish food […] has no geographical base, no terroir,' she writes, 'but because a culture is complex it does not mean it does not exist.'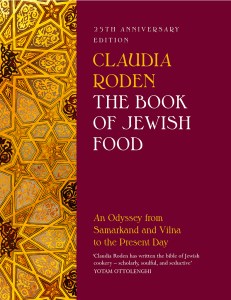 To mark the 25th anniversary of its first UK edition, The Book of Jewish Food has been republished by Viking, with additional essays on the historical Jewish communities of the Netherlands, the Czech countries and Algeria. The smart new cover is embellished with an image of the geometric ceiling of a synagogue in Toledo. Beyond that, thankfully, the book retains its original, expressive format: it is a long-simmered cholent that combines memoir, essays and recipes, as well as old Jewish jokes and historical photographs.
Roden's decision to illustrate the book with archival images contributes in no small part to its distinctive tone, in part elegiac but also invigorating and celebratory. Her earlier cookery books had incorporated modern food photography, in the case of A Book of Middle Eastern Food (1968), her first book, employing it in addition to playful decorations by Edward Bawden. But in The Book of Jewish Food she illustrated not dishes themselves but the vanished contexts of their preparation and consumption. The 70 or so photographs, most dating to before the Second World War, depict Jewish marketers, Jewish families and their feasts and Jewish interiors and neighbourhoods from across the diaspora.
Roden researched these photographs herself, with an application commensurate to how she had collected recipes. A few came from friends who advised her on local traditions, others from archives such as the Wiener Holocaust Library in London, or the YIVO Institute for Jewish Research in New York. The most significant source, however, was the collection of Gérard Silvain, a Frenchman who had begun in the 1960s to collect postcards representing Jewish life, amassing thousands of images that included many acquired from the bouquiniste stands along the Seine. Often these had originally served, in the early decades of the 20th century, to carry Rosh Hashanah greetings.
In many cases, the images selected bear an illustrative relationship to the text. The chapter on Ashkenazi poultry cookery opens with a photograph of a man raising geese in Trnava in present-day Slovakia. An essay on the Jewish communities of Morocco is punctuated by photographs of a vegetable merchant in that country and a well-to-do family sipping tea in Tangier, the juxtaposition making a small visual argument about social heterodoxy at a specific place and time in Sephardi history.
More broadly these photographs serve to corroborate the mnemonic endeavour of Roden's writing. They are relics of worlds that only persist, by and large, as intangible memories of communities destroyed or otherwise displaced, whether by pogroms, post-war airlifts or economic circumstance. They attest to loss but in this context they also begin to mitigate it, seeming to articulate the food memories bequeathed by the people and places that the images represent. Of Salonika (Thessaloniki), once home to the largest Jewish community in the Ottoman Empire, Roden writes: 'This centuries-old chapter of Jewish life has come to an end, but we will always have traces of it on the table, for cooking is the part of culture that lasts.'
Alongside images of Jewish families, Roden included photographs of her own forebears, as well as places meaningful to them: the synagogue in Aleppo, where her great-grandfather had been chief rabbi, or the Muski district of Cairo, Roden's home city until the expulsions of 1956. This personal dimension prevented the archival photographs from becoming mere ethnographic artefacts; in the company of Roden's own memories, they draw attention to the possible experiences of other individuals and groups.
At one point in the book, Roden recalls searching for images in the Museum of the Jewish People (Beit Hatfutsot) in Tel Aviv. She found a photograph of a family in Marrakesh who had once cooked for her, and nearby another of the man who had been her doctor in Cairo. 'It made me a little sad to think that their lives were museum pieces,' she writes. The archival photographs in The Book of Jewish Food do serve a memorial function. But they also speak of a vitality that endured, and which Roden did so much to replenish.
From the July 2022 issue of Apollo. Preview and subscribe here.
Unlimited access from just $16 every 3 months
Subscribe to get unlimited and exclusive access to the top art stories, interviews and exhibition reviews.
Recommended for you