From the September 2022 issue of Apollo. Preview and subscribe here.
In the dark depths of lockdown, Jane Asher's Fancy Dress (1983), a handy guide to making costumes devised by the actress and author with the help of various celebrity friends, found a new life online. Pages of saturated photography bounced around Twitter, featuring adults and children alike dressed as sandwiches, circus tents, star signs and soda fountains. Monty Python's Terry Jones, for example, appears as 'Girl Jumping Out of Cake', complete with crêpe cherry-bun bosoms. Joanna Lumley took on the role of 'Knickerbocker Glory' in toilet-paper frills. Part of the pleasure of these scenes comes from the banality of the materials: a jellyfish devised from an umbrella and bubble wrap; a punkish Mohican rising from the remnants of a feather duster. The costumes are also, largely, very funny. Who wouldn't want to turn up to a party as a pink-hooded smoked salmon, pipe in hand?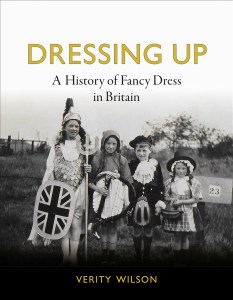 As Verity Wilson's abundantly illustrated new study Dressing Up: A History of Fancy Dress in Britain shows, Asher's book is no outlier, but part of a time-honoured tradition. Mostly focused on the period from 1850 to 1950, Wilson's extensive research yields many inventive get-ups. From Victorian children's balls featuring Dresden shepherdesses and the Princes in the Tower to the annual Shetland festival Up Helly Aa with its all-male squads of frogs and council houses, Britain possesses a long heritage of people dressing up as something other than themselves.
Although we intuitively recognise 'fancy dress' when we see it, formal definitions are harder to pin down. In her introduction, Wilson begins by listing what it is not. Fancy dress may have close parallels with other realms reliant on costuming, including theatre, drag, folk celebrations, historic re-enactments and more serious forms of disguise, but the focus here is largely on attire 'made for a specific occasion, sometimes from […] surprising materials'. Wilson expands this idea with a nod to 'quotidian clothes and objects […] in odd juxtaposition, transformed from the everyday into something fantastical'. Such costumes might appear at balls, parties, carnivals, coronations, parades and national holidays. Often there is an element of whimsy, coupled with the sense of anticipation felt by the dresser as they build, buy, or painstakingly devise their look before the big day.
Despite its eccentricity, fancy dress has often been taken very seriously. Wilson takes the reader on an entertaining journey through the commitments made – both financially and imaginatively – by those adopting the guise of fictive and fairy-tale characters, historical figures, animals, puns, seasons, celebrities, inanimate objects and more. Balls held in the late 19th and early 20th centuries often offered substantial prizes. In 1895 one lucky attendee dressed as 'Our Back Garden' won a solid-silver coffee service worth £60 at an event in Covent Garden. Fancy dress was also a surreal barometer of the times. With the passing of the act to introduce the modern state pension in 1908, a float at a Somerset carnival that year featured 'Old Age Pensions – Before and After': shivering elderly workers contrasted with a happy couple in their snug cottage. No event seems too big or small to have gone unnoticed – or uncostumed. Post Wall Street crash, people dressed as pawnshops. After the Second World War, a Colorado Beetle Exterminator appeared in a parade in Randalstown, Northern Ireland, referring to the suddenly widespread potato-crop pest. The growing popularity of products including Ovaltine and Odol toothpaste didn't escape attention either, the latter appearing illustrated in 1940s catalogue Weldon's Fancy Dress for Children as a nautical pyjama get-up complete with swishy red, blue and white trousers.
These costumes are also testament to the lengths that people will go to entertain themselves. Take a step back from the chapter on tableaux – elaborate 'living statue' arrangements popular during the Victorian and Edwardian eras – and there is something hilarious in the fact that all it took to wow a crowd was dressing up a bunch of children and then making them stand very, very still. Wilson notes in her opening sentence that this book has 'taken a long time to write because in the process I have done more laughing than writing'. The reader will be inclined to laugh too, sometimes at the superb silliness that can be achieved with plastic and pins, sometimes at the sight of a group of fully grown men crouched low to the ground, disguised as a cast of mushroom-like crabs.
However, it's not all merriment. As Wilson notes, the history of fancy dress is not just liberatory, but also, often, a history of conservative, anti-union, racist ideas. Although dress up can offer an amusingly topsy-turvy anarchy when it comes to the upending of class and gender, it has also been the vehicle for reinforcing those same categories. Wilson does not shy away from the murkier reaches of Britain's fancy-dress history, including blackface and KKK costumes. There is also a great degree of what might now be regarded as cultural appropriation: from the stock figure of the 'Red Indian' to the obsession with 'orientalism' in the early 20th Century.
At times, one hopes for a little more of the personality expressed in Wilson's opening sentence. It's unfair to fault the book for fidelity to the facts, but with a topic as rich and silly as this, one occasionally wishes for a little more in the way of play. Writing at one point about a photo from the 1920s of an all-female group dressed as cowboys and pierrots, Wilson asks, 'Who were these women? Did they work as shop assistants in the big Oxford Street stores? Were they dressing up in their lunch hour, carefully removing their smart work clothes and donning chaps?' Beneath the hats, or the harlequin patterns, or the crêpe cherry-bun bosoms, there are people temporarily entering the world of make-believe. Their caprice and creativity, their motivations for glueing insects on to a dress or posing proudly for the camera in the guise of a clown, are just as interesting as the costumes themselves.
Dressing Up: A History of Fancy Dress in Britain by Verity Wilson is published by Reaktion.
From the September 2022 issue of Apollo. Preview and subscribe here.
Unlimited access from just $16 every 3 months
Subscribe to get unlimited and exclusive access to the top art stories, interviews and exhibition reviews.
Recommended for you