Unseen Photo Fair in Amsterdam calls itself 'the fair with a festival flair'. Food stands, bars, installations and outdoor exhibitions surround the grounds, and on entry you get a wristband similar to those given out at concerts, colour-coded depending on who you are – press, collector, exhibitor, VIP. The whole structure has been done in a makeshift, hippie style reminiscent of a Woodstock or Glastonbury.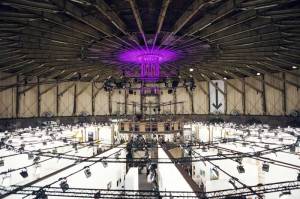 The fair only shows work by new 'unseen' artists, or new bodies of work by established ones. The joint venture between Platform A, Vandejong Creative Agency, and FOAM Fotografiemuseum Amsterdam is now in its third year, and has attracted 53 Dutch and international galleries to its premises in the historic Westergasfabriek. It's also lined up an impressive accompanying programme. The Unseen Book Market exhibits unpublished 'dummies' submitted by artists, as well as limited editions from publishers from around the world. The Unseen Living Room – an informal meeting place to exchange ideas – brings together leading minds such as Simon Baker of Tate, Matthew Leifheit from Vice and Thomas Seelig from Fotomuseum Winterthur.
More big names are exhibiting at the fair itself. The established Photographer's Gallery in London is there, selling the work of a select group of artists. Anstice Oakeshott, the print sales coordinator for the museum, explains that this commercial arm 'has always existed within the museum's structure, the aim being to nurture photographers and collectors and to encourage interest in collecting.' Undoubtedly, the status of this relatively young medium has grown thanks to initiatives like TPG's.
I was also excited to see that Library of Birmingham has partnered with a curator from Division of Labour, to present a body of work by artists responding to their archive. The result is inspiring work: from a series of images that have been white washed, showing how big corporations' use of stock photos renders artists invisible (Month in the Country, Cornford & Cross), to Stuart Whipps' A System for Communicating with Ghosts, a cunning reinterpretation of a form of sign language developed by Christopher Wren (who knew?).
'With the funding cuts, though we are still backed by organisations like Arts Council England, public institutions have to look to the private sector', says Nicola Shipley, the co-director of GRAIN, the Library of Birmingham subdivision behind the Unseen selection.
The Birmingham exhibition shows how artists are pushing the boundaries of photography, and there exists a strong trend more generally toward using the medium in inventive ways. As, Matt Lipps (one of the artists in FOAM's new exhibition 'Under Construction', which discusses exactly this issue) stated: 'professional photographers need to think about what they are saying now that everyone can be a photographer using their own smartphones.' Lipps' work reflects on the Time–Life standards of photography, with photo-collage works questioning the appropriate forms of photojournalist shots or studio imagery.
Also at FOAM is a solo show of Paul Huf award-winner Daniel Gordon, who takes the 'what is photography' question to the next level. In massive prints that resemble Matisse canvases, he plays with abstraction, collage and colour. The photographer is 'making' an image, not simply 'taking' it. At the main fair, further examples of this trend were visible. Lorenzo Vitturi, who made the fair's cover image and is exhibiting on several stands, plays with planes and textures in painterly still-lifes.
Carmen Freudenthal and Elle Verhagen's Horse and Rider uses in-your-face textiles; Matthew Murray's dark, textured Stripper series at Gallery Vassie is more subtle. Artists use archival paper to make images look historic, like Clare Langan's triptych at Galerie Anita Beckers. Or they print on experimental surfaces, like Kasia Klimpel who even adds a spirit level to one of her works (off-centre). The atmosphere at the fair infectious: photography is exciting, inclusive, disruptive and fun. Those who are expecting to find traditional flat photography in a rectangular frame will be pleasantly surprised.
Unseen Photo Fair is at Westergasfabriek, Amsterdam, from 18–21 September.
Black Friday sale: 6 months for the price of 3
Subscribe using our Black Friday sale to get six months of the most incisive art writing available for the price of three.
Recommended for you