'Van Gogh to Rothko' showcases some of the masterpieces of modern and post-war art in the collection of the Albright-Knox Art Gallery. As the show tours to Crystal Bridges Museum of American Art, we spoke to Manuela Well-Off-Man, the curator responsible for re-hanging and reinterpreting the works in a new venue.
Click here for a gallery of highlights from the exhibition
Can you tell us a bit about the exhibition?
'Van Gogh to Rothko' brings 76 works by 73 influential artists from the late 19th century to the present. The exhibition features masterpieces by some of the most prominent names in art history including Vincent van Gogh, Pablo Picasso, Georgia O'Keeffe, Salvador Dalí, Frida Kahlo, Andy Warhol, and Mark Rothko. The works were selected from the collection of Albright-Knox Art Gallery in Buffalo, N.Y., one of the finest collections of 20th-century art in the country.
What makes this a distinctive show?
The exhibition marks the first time many of these works have toured in decades. Crystal Bridges is one of only four venues, beside the Albright-Knox, that will host this remarkable exhibition, offering museum visitors a rare opportunity to view paintings and sculptures by some of the most well-known and respected names in the art world.
How did you come to curate this exhibition?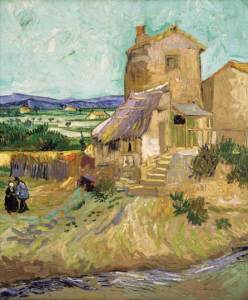 The largest group of works in 'Van Gogh to Rothko' includes stellar examples of Abstract Expressionist art, in addition to magnificent works of Pop art, Minimalism and post-Minimalism. My area of expertise is post-war American art. I have curated several exhibitions featuring these art movements, including 'The Poindexter Collection' (paintings by Willem de Kooning, Arshile Gorky, Franz Kline, Richard Diebenkorn and others) at Montana Museum of Art & Culture in 2008, and 'Abstractions on Paper: From Abstract Expressionism to Post-Minimalism' here in 2013.
'Van Gogh to Rothko' also includes major works by European modernists. I studied art history in Germany, so I am very familiar with European modernism; and I was Crystal Bridges' curator for MoMA's travelling exhibition 'The William S. Paley Collection: A Taste for Modernism', which highlighted some of these artists.
What is likely to be the highlight of the exhibition?
Among the many highlights is Jackson Pollock's Convergence (1952). It is one of his major drip paintings and is an excellent example of his revolutionary and influential painting style that uses line as an independent subject rather than to define objects and form. Since we don't have a Pollock drip painting in our permanent collection this will be a great opportunity for our guests to experience Pollock's energetic application of paint.
And what's been the most exciting personal discovery for you?
I am fascinated by the innovative ways these artists used colour to express themselves. The bright and fresh colours in Van Gogh's The Old Mill, applied in his signature paint-loaded, expressive brushstrokes are spectacular; one can really feel how much he enjoyed the sunny climate of southern France. I was surprised about how warm and rich the black is in Clyfford Still's 1957-D No.1 – the black almost seems to glow from within. I think our visitors will be surprised about the complexity of the monochrome Minimalist paintings: some are created by applying layers upon layers of colour; others have a metallic shine or a very delicate, sensitive wax-like surface.
I think our visitors will enjoy experiencing how the use of colour changed during the different art periods featured in the show.
What's the greatest challenge you've faced in preparing this exhibition?
The Abstract Expressionist paintings are very large and travel in large crates. Two of them barely fit through our doors. We had to measure everything carefully and worked closely with the Albright-Knox Art Gallery staff; however, everything worked out great.
How are you using the gallery space? What challenges will the installation pose?
Instead of grouping the artworks by collections (the way it was presented at the Albright-Knox Art Gallery to celebrate 150 years of visionary collecting), I am arranging the artworks in a more chronological order by art movements. I thought this would enhance the art and learning experience for our guests, and offer them the rare opportunity to explore the development of modern art from the late 19th century to the present.
Which other works would you have liked to have included?
This exhibition is a welcome opportunity for Crystal Bridges to highlight signature works by artists we currently don't have represented in our permanent collection, such as Pollock's drip painting, or major Colour Field paintings by Clyfford Still and Robert Motherwell. One thing I would like to add to this group is a classic zip painting by Barnett Newman, such as Vir Heroicus Sublimis (1950–51; MoMA) to reflect the development of Hard-edge painting.
It would also have been fantastic to include one of Richard Serra's early prop pieces such as One Ton Prop (House of Cards) from 1969 and a work by Eva Hesse, such as Contingent (1969; National Gallery of Australia) to strengthen the process art and post-Minimalism section and to introduce these influential artists to our Crystal Bridges audience.
'Van Gogh to Rothko: Masterworks from the Albright-Knox Art Gallery' is at Crystal Bridges Museum of American Art from 21 February–1 June.
Unlimited access from just $16 every 3 months
Subscribe to get unlimited and exclusive access to the top art stories, interviews and exhibition reviews.
Recommended for you