Spotted around London this week
Day 1 | Day 2 | Day 3 | Day 4 | Day 5

What We Like
At PAD London/Frieze Masters
The contrast between stands mounted at the two fairs by the same dealers. The Tomasso Brothers have teamed up with Karsten Schubert in Regent's Park, setting full-scale busts against works by Bridget Riley; at PAD London, they've opted for small-scale sculptures, beautifully presented in custom-built wooden shelving units: exceptional terracottas, bronzes and ivories, from antiquity to the present-day, many of which come with tempting price tags in the mid-thousands.
De Jonckheere Fine Art have brought Old Master paintings – many of them Flemish – to Frieze Masters; at PAD, the younger generation of this family business, Laura and Arnaud de Jonckheere, present modern and contemporary work including several Magritte gouaches. The Last Sailing Ships (1964) is a highlight here – a maritime scene in which what look like cut-outs of the sea float above the dunes, as if a traditional seascape had evaporated into a surreal vision.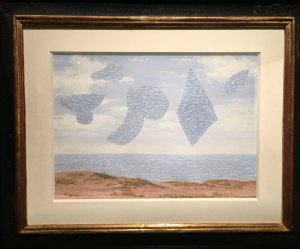 At Pace Gallery
Lee Ufan's paintings at the back of Burlington House are a little oasis of calm in the midst of Mayfair. His meditatively repetitive works are structured by the act of painting itself: he begins with a loaded brush and then applies paint methodically until it is spent, before starting again.
At Bonhams
There's a fun and rather eclectic selection of Gutai, Zero, and Yayoi Kusama works on show in Bonhams. Most are wall pieces but hardly any are flat: reflective and folded surfaces, manipulated materials, disorienting patterns and protruding nails abound. You can (and many did) also pose in front of Kazuo Shiraga's large Red Fan.
At Multiplied Art Fair
Multiplied is now open at Christie's South Kensington with a good selection of limited edition works. Alongside the expected screen prints, lithographs and other paper-based editions are increasing numbers of 3D-printed sculptures. See C&C gallery's stand for some of the most interesting examples including some by Gavin Turk.
What We've Seen
Richard Long queuing behind sometime minister for the arts David Mellor for a table at Locanda Locatelli at Frieze Masters. Yep, that's a line made by waiting…
Lee Ufan himself, improbably patient and polite in the face of a determined gaggle of fans seeking his autograph. Here's critic and Spear's editor Josh Spero getting his moment with the master…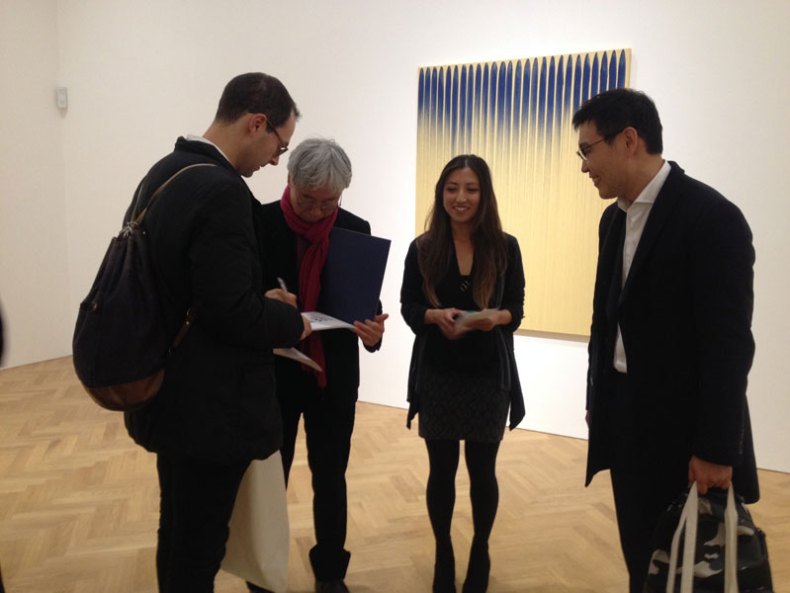 Day 1 | Day 2 | Day 3 | Day 4 | Day 5

Unlimited access from just $16 every 3 months
Subscribe to get unlimited and exclusive access to the top art stories, interviews and exhibition reviews.
Recommended for you