Matthew Craske's fascinating biography of Joseph Wright looks afresh at the artist known as the 'painter of light'. The title refers to Benedict Nicolson's authoritative book on the painter, published just over 50 years ago. Craske does not seek to supersede Nicolson's book, which, he argues, retains its authority as a catalogue, as well as providing a convincing picture of the social context in which the artist worked. Instead, he provides an alternative reading of this 'self-professed melancholic', drawing on neglected sources to mine the motivations and forces behind the creation of Wright's oeuvre. Craske argues that Wright's interest in darkness developed out of a literary culture in which 'the night' was a place for pensive souls.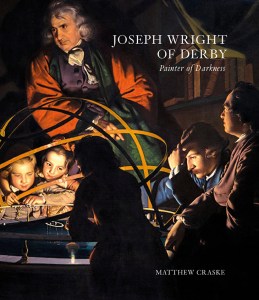 Divided into two parts, this richly illustrated book begins with an exploration of the artist's identity as a painter who eschewed the politics of the London art world and 'retired' to Derbyshire. Wright was born in Derby but in 1751 moved to the capital, where he studied under the portraitist Thomas Hudson. Two years later he returned to his hometown, where, aside from periods in Liverpool, Bath and Italy, he remained for the rest of his life. Supported by a close network of friends including the poet William Hayley, Wright established a reputation as a melancholic recluse who chose to absent himself from the superficial distractions of metropolitan life. The success of reproductive prints after his paintings and his regular inclusion in exhibitions in London allowed Wright to appear on the national stage without ever having to take up residence in the capital. Unlike many previous scholars of Wright, including Nicolson, who discounted the early biographies of the artist, Craske takes these accounts of his life seriously, analysing the context of their production and the relationship between the biographer and artist. These texts offer fresh insight into an artist whose public persona was often carefully managed by his supporters, and whose bouts of depression fed into his image as a melancholic genius.
The second part of the book is divided into nine chapters, each of which focuses on a particular painting or set of works. Craske makes the case for biographical information as a useful and productive means of interpreting the artist's work, and discusses the recurring preoccupations in his paintings, such as the night, the tribulations of old men, and solitude. The work for which Wright is best known today, however, depicts groups of people gathered together, whether admiring the spectacle of an orrery or observing an air-pump experiment. Craske's interpretation of these paintings focuses on Wright's belief that certain kinds of thinking could take place only in darkened rooms 'when the mind became susceptible to the contemplation of profound, and profoundly important, matters'. This idea allowed Wright to employ his characteristic chiaroscuro effect in much of his work.
For Wright, his isolation in Derby aroused the sympathetic emotions he deemed necessary for the creation of great works of art. Loneliness became a theme that recurred in his work – witness the solitary figure of The Captive from Sterne or the brooding middle-aged man in the foreground of An Experiment on the Bird in an Air Pump. Wright's depictions of 'old men in the dark', often based on portrait studies, dominated his artistic production during a period of melancholic lethargy shortly after his arrival in Liverpool in 1768. Such gloomy works did not, however, sell well, and it was only when he turned his attention to depictions of beautiful young women in the following decade that he more easily found a market for his work.
Wright's inclination to step away from prevailing ideas about the manner in which history painting should take shape can be seen in his depictions of the rural poor. Like his friend and fellow painter John Hamilton Mortimer, Wright preferred to make the old and poor protagonists of his narrative works. This set both artists against Joshua Reynolds' belief that history paintings should depict scenes of heroism that would elevate and ennoble the viewer. Craske points out that Wright's approach was not, however, an act of egalitarianism but evidence of a conservative view of a social hierarchy in which each member of society played their part contentedly. Indeed, many of these paintings were purchased by aristocrats and landed gentry, and one of his forge paintings was acquired by the least egalitarian of rulers, Catherine the Great.
While Wright's attention was directed in these paintings towards the human figure, his focus later shifted towards landscape painting, enabling him to support his time in Italy. Craske draws an appropriate comparison with the painter Richard Wilson, who was much admired by Wright and became a great influence on his work. Like Wilson's, Wright's landscapes expressed a sense of isolation and loss. These works became popular with wealthy Midland industrialists and tradesmen who did not have the means to undertake a grand tour, but who bought into the fantasy of Wright's campagna pictures. Craske persuasively suggests that this was more likely a political rather than financial decision; Wright did not care for the artists who fawned over the milordi in Italy.
Wright's career as a history painter culminated in a depiction of The Dead Soldier, once again subverting the prevailing type of heroic deaths established by Benjamin West's The Death of General Wolfe and John Singleton Copley's The Death of Major Peirson. Rather than presenting a patriotic image in which the military hero is slumped in a Christ-like pose surrounded by his supporters, Wright depicts his soldier anonymously with his face buried in the dirt, his wife and child left destitute at his death.
The darkness of Wright's painting was not only that of pigment but a gloominess in subject matter that pervaded much of his work. It had the capacity to delight, horrify and excite through his skilful depiction of the night. Craske's ambitious and innovative book invites the reader to reconsider this melancholy mind, this painter of darkness.
Joseph Wright of Derby: Painter of Darkness by Matthew Craske is published by Paul Mellon Centre for Studies in British Art.
From the November 2020 issue of Apollo. Preview and subscribe here.
Recommended for you