This review of Magritte: A Life by Alex Danchev (Profile Books) was published in the January 2022 issue of Apollo. Preview and subscribe here.
René Magritte is thought of as a 'placid petit bourgeois who kept a modest house in a nondescript Brussels suburb', writes Alex Danchev in his posthumously published biography. Certainly, Magritte liked to paint in his dining room, wearing a suit and tie and slippers, surrounded by his collection of Sèvres porcelain and accompanied by his wife, Georgette, who had been his childhood sweetheart. You could set your watch by his dog walks with a succession of Pomeranians, always called Lulu and Jackie. A respectable, bowler-hatted, middle-class 'martyr to boredom', he didn't seem to have much of a life.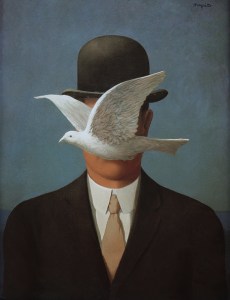 Danchev scratches away diligently at this self-conscious anonymity to find a more promising biographical subject hidden behind the apple; he succeeds in creating a fascinating portrait, finding melodrama in Magritte's unassuming suburban existence. After his mother's suicide, when Magritte was 13, he acted out, becoming a teenager who held theatrical mock masses for his friends, robbed graves and had a scatological mind, pouring yeast down public latrines to enjoy the fermented chaos that ensued. He was ironic, sarcastic, nonconformist, provocative, derisive, intransigent – all character traits that found a later outlet in his subversive painting, however carefully controlled that seemed.
Perhaps Magritte's most famous work is The Treachery of Images (1929), depicting a pipe beneath which is the cursive negation, 'Ceci n'est pas une pipe'. It was a Wittgensteinian lesson, showing the arbitrary nature of language, and both strikingly original and casually subversive. When asked by an American correspondent what was behind his images, with their trompe l'oeil effects and veiled eroticism, Magritte replied: 'Behind the paint of the painting there is the canvas. Behind the canvas there is a wall. Behind the wall there is… etc. Visible things always hide other visible things. But a visible image hides nothing.' As Paul Delvaux declared, '"Ceci n'est pas une pipe," c'est un gag!'
His paintings often include architectural features – doors, walls and windows – that are porous but imprison those who aren't yet dreaming with open eyes, such as the groping figures in The Hunters at the Edge of Night (1928). In 1923, when he first encountered Giorgio de Chirico's The Song of Love (1914), Magritte had an existential epiphany and became convinced of 'the primacy of poetry over painting'. He thought of himself as more of a thinker than a painter, and of painting as an invitation to revolt, to see a world of possibility beyond the one we inhabit. It was inevitable, therefore, considering his preoccupation with mystery, that he would become friends with the Surrealists. However, as Danchev shows, he was a perpetual outsider who remained at the fringes and was never fully embraced by the group.
A provincial Belgian with a thick Walloon accent, he quit his job as a wallpaper designer and in 1927, at the age of 28, moved to an eastern suburb of Paris, where he produced his first word-paintings and 'cut-up' canvases alongside commercial work, creating covers for sheet music and advertisements for soap and cigarettes. He painted the famous picture of a female nude (Georgette), surrounded by passport-style photographs of 16 male Surrealists, who all have their eyes closed, as if engaged in shared fantasy, and included himself in this elite group. However, in 1930, he was excommunicated by André Breton, 'the Pope of Surrealism', who had demanded at one of his parties that Georgette remove a crucifix necklace, which she refused to do, preferring to leave instead. Magritte stormed out with her, and the couple retreated, hurt, to Belgium.
There was a rapprochement a few years later and Le Viol (The Rape), in which, Danchev writes, 'a woman's face is replaced by her sex', appears on the cover of the first edition of What Is Surrealism? in 1934. In answer to the book's question, Breton offered the following definition: 'It is the cuckoo's egg dumped in the nest (the brood gone), with the complicity of René Magritte.' Before the war, Magritte played this cuckoo-like function as 'court painter' to wealthy patrons such as the English eccentric Edward James, in whose Wimpole Street mansion he lived, and who he depicted in The Pleasure Principle with his face hidden by a starburst, and in Not to Be Reproduced looking into a mirror only to see the back of his head. In London he became infatuated with Sheila Legge, the glamorous and intellectual 'Surrealist Phantom of Sex Appeal', who shrouded her own head with roses in Trafalgar Square to advertise the opening of the International Surrealist Exhibition, where Magritte had 14 works on view.
Much of his later work was a reaction against Breton's definition of Surrealism, and the preoccupation with automatism and the fantastic. After the outbreak of war, fearing reprisals for having designed posters for the Comité de vigilance des intellectuels antifasciste, and feeling that the Nazis had outflanked the Surrealists in terms of provoking confusion and panic, he fled to the south of France and began painting impressionistic 'sunlit' pictures, full of Renoir-like colour and optimism. It displeased his growing coterie of collectors, and Breton dismissed it as enforced Stalinist optimism; Magritte did indeed join the Communist Party after Liberation but he was not a natural follower, and this was short-lived. In the late 1940s he embarked on his 'vache' period, deliberately crass and cartoonish paintings, anticipating the Bad Painting of the 1970s and much contemporary art, something that also seemed designed to upset the high-minded surrealists.
Danchev shows how, even as his work was becoming more saleable, particularly in America, where he was enshrined in MoMA, Magritte forged works by Picasso, Braque, Klee, Ernst, de Chirico, Courbet and Titian, and even banknotes. He painted editions of his best-known works, and also created homages to Manet and David, which he called 'perspective paintings', in which the figures were replaced by coffins, as if to entomb the art of the past. Psychoanalysts would trace this obsession with death back to his childhood trauma, when his mother was pulled out of the river Sambre after 17 days, her torso bare and nightdress concealing her face, a macabre sight which he replicated with his own veiled figures. The Musings of a Solitary Walker (1926) shows a bowler-hatted man staring away from us at a river, while a corpse floats behind him. 'He did not speak about things that touched him deeply,' Georgette said. 'He painted them away.'
Magritte: A Life by Alex Danchev is published by Profile Books.
From the January 2022 issue of Apollo. Preview and subscribe here.
Unlimited access from just $16 every 3 months
Subscribe to get unlimited and exclusive access to the top art stories, interviews and exhibition reviews.
Recommended for you