In the early summer of 2012 Jasper Johns was sent a Christie's auction catalogue for the London sale of Francis Bacon's Study for a Self-Portrait (1964). The catalogue detailed how this 'self-portrait' had rather surprisingly been based on a series of photographs by John Deakin of Lucian Freud sat on a bed and reproduced one of the series. Over the next 18 months Johns worked and reworked versions of this image in multiple media to create a series entitled 'Regrets'.
In early pencil sketches Johns dissected the image of the torn, folded and marked photograph. On one sheet he traced it and divided it into garish paint-by-numbers colours and reversed it in largely monochrome watercolour. This reversal of the misshapen photograph creates the impression of a skull in the centre, sat atop a plinth, doorway or altar, the two Freuds seeming to contemplate it like a Vanitas or memento mori.
This doubled format continues throughout Johns's exploration of the image in various media, where colour is combined with his characteristic monochrome. In a large canvas colour seems to push through the grey to an almost patterned surface, reminiscent of Omega Workshop fabrics, hanging in front of a dark ground. A later canvas picks out sections of Freud's form in red, blue and yellow, an approach explored in watercolour during the gestation of the oil. While the oil paintings show Johns's distinctive mark making, three ink on plastic works allow him to disguise his hand. Johns is skilled in controlling the ink's saturation but it dries without a trace of the brush.
For an artist whose creative beginnings are often shrouded in mystery, this insight into his starting point and process is all the more fascinating, but again Johns conceals his hand. The title of the series comes from Johns finding a stamp he had made years previously to respond to unwanted invitations and correspondence – 'Regrets – Jasper Johns'. The pose of Freud, who died in 2011, may ooze melancholia, but the American artist did not know him, and had met Bacon only briefly. The stamp, which simultaneously titles and signs the work, dissolves sorrow with levity.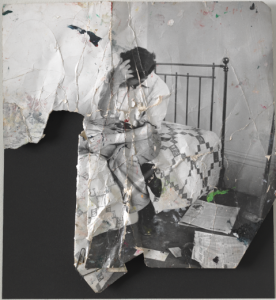 The one room hang does not trace Johns's process chronologically, as was the case when the series was exhibited in the Museum of Modern Art in New York. The series is experienced simultaneously; Courtauld curator Barnaby Wright told me that he first saw 'Regrets' displayed in a similar manner in Johns's studio. In New York a series of etchings joined the paintings and drawings displayed here. Given the Courtauld's excellent collection of prints, this absence is unfortunate, but Wright felt they could not do justice to the 30 print states in the series.
The exhibition is part of the Courtauld's occasional series of displays of leading contemporary artists, which began with Richard Serra a year ago. Wright told me that it was pure coincidence that both Serra and Johns produced works on Mylar plastic, and while there is no distinct theme, there is a focus on 'artists who speak to a longer history of art'. This is certainly evident in Johns's case, where the series nods to Dürer, Goya and Cézanne as well as the Vanitas tradition and, of course, Bacon and Freud. Do not miss this opportunity to see this important, coherent and visually beguiling series of works by a modern master rarely exhibited in the UK.
'Jasper Johns: Regrets' is at the Courtauld Gallery, London, until 14 December 2014.
Unlimited access from just $16 every 3 months
Subscribe to get unlimited and exclusive access to the top art stories, interviews and exhibition reviews.
Recommended for you