From the March 2015 issue of Apollo: preview and subscribe here
Gusti Nyoman Lempad (1862–1978) was the most talented artist of the pre-war Balinese modernist painters, those pioneers who, in the 1920s and '30s, invented ways of responding to the desires of European travellers for souvenirs of their experiences in Bali, and at the same time initiated an expressive art form that continues to flourish today. Although resembling a sumptuous coffee-table book, this massive volume represents the work of a dedicated team of scholars, and offers an important contribution to understanding the early phases in Bali of the globalisation processes of the 20th century.
The book is organised into two parts: a set of six essays on the life and times of Lempad and a gallery of his drawings. The essays present much original data, coupled with thoughtful new insights. They cover, inter alia, Lempad's biography (John Darling), the Indic roots of much modern Balinese culture (Bruce Carpenter), the work of Claire Holt in recording this history (Kaja McGowan), the relationships of various Europeans to the painters (Hedi Hinzler), and the sources of the techniques and styles of Lempad's drawings (Soemantri Widagdo and Bruce Carpenter).
The gallery, which forms the greater part of the book, contains a splendid collection of many of Lempad's pictures, and is very nearly a catalogue raisonné. The reproductions, often life-size, are marvellous. Locating nearly every picture Lempad ever made (the labour of nearly a decade) and, where possible, discovering its date, first buyer, and subject matter, was done by three people of diverse and great capabilities: Soemantri Widagdo, an engineer, collector and museum curator; Adrian Vickers, an art historian; and Bruce Carpenter, a dealer and collector.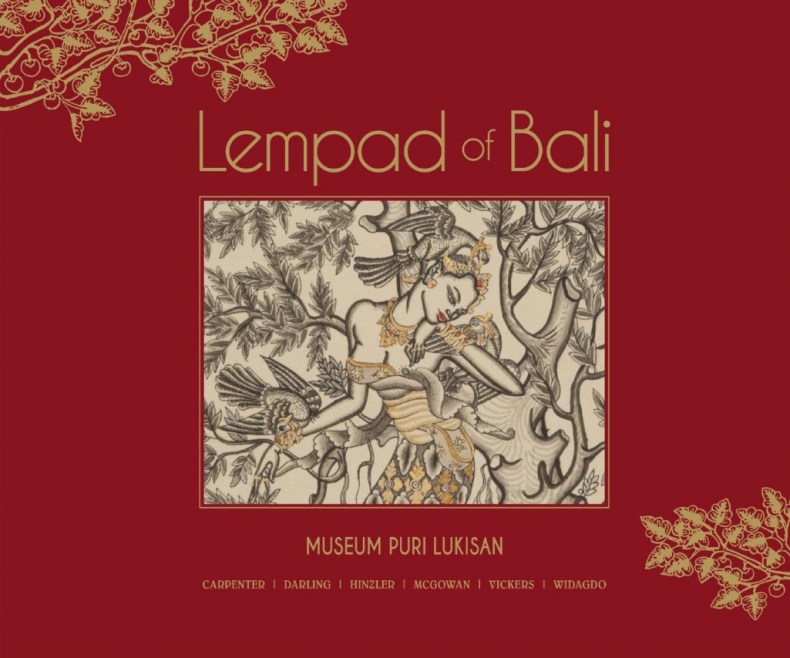 Lempad was one of the earliest and most prolific traditional craftsmen to respond to the encouragements of western residents and travellers by making drawings on paper, first in 1929 but with a rush after 1932. Until now, the standard account gave two resident European artists credit for encouraging the Balinese experimenters. Only two foreigners were named in previous histories: the German artist Walter Spies and the Dutchman Rudolf Bonnet. But in this book Hedi Hinzler's research in the archives in Holland shows that there were several other influential figures. These included the wife of the Dutch manager of the Bali Hotel who ran a shop there selling these pictures, a government anthropologist working at the time in Makassar, a government philologist, the head of the colonial tourist office, and several anthropologists, who all lived in Bali in the 1930s, and who visited Lempad and his fellow artists and collected their drawings and paintings. This new information complicates the history of Western involvement in the styles and subject matters of the new pictures. In writing the histories of these Balinese paintings, we can no longer limit ourselves to studying the influence of Spies and Bonnet.
The uniqueness of Lempad's works must be understood within the larger context of other works being made at the same time. Three Balinese makers of shadow puppets, in Peliatan near Ubud, started to paint in tempera on paper. In contrast with Lempad's practice, they covered their picture planes completely, in bright colours and filling in all spaces with leaves. Perhaps they copied Western paintings in oils, or the illustrations on commercial packaging. In any case, this became the dominant style, whether the subject matter was based on life in Bali or tales from the oral storytellers.
Elsewhere in Bali at around the same time, a few others began independently making cruder pictures for sale. Bonnet collected a few of these, apparently from a Chinese shop in Denpasar. Immediately a tacit distinction grew among painters and collectors between those careful works valued by the expatriates and those made for casual tourists. A display of the best modernist paintings was installed in a room of the Bali Museum, which was built in Denpasar in the early 1930s.
Lempad's style and technical prowess stood out from the very beginning. As early as 1931 his nudes were rounded, unlike the stiff, flat figures produced by his contemporaries. His line drawings in black ink and his distinctive energetic line were never imitated. Widagdo and Carpenter's essay clarifies the unique characteristics of his lively inked lines, linking them to his years of experience in carving stone temple decorations. They point out that carvers may start out carving a bas relief with an overlaid outline and that much stonework has incised lines in it. However, many others started out as stone carvers but never drew in the manner of Lempad. His compositional flair, which shows up most in the dynamic tangles of arms and legs of his narrative pictures, is not remarked upon.
Lempad's broad range of subject matter is well demonstrated in this book – everything from everyday rituals, to illustrations of episodes from Bali's vast store of mythological subjects. The latter includes the Dancer Emerging from Trance, which depicts the ritual dance of the Barong, a two-person lion-like creature, accompanied by a dagger-wielding man in a trance; and the mythic episode in which the demi-god Garuda, a great bird of prey, defeats two priest-sorcerers who have transformed each other into a tortoise and an elephant. The little men cowering underneath represent the 1,000 priests he also conquered. Both images reveal Lempad's daring departure from conventional iconography.
I believe that most of the collectors knew (or cared about) the subject matter of Lempad's paintings. Lempad must have recognised this fact, and that awareness freed up his imagination. However, even those Europeans who were the most informed about Balinese culture did not seem to have a deep interest in the great Hindu narrative classics, the Mahabharata and the Ramayana, and Bali's own Hindu-Buddhist tales. Lempad illustrated these with great intensity and originality, but his buyers often left those illustrated drawings untitled. Most have been identified only now by Vickers for this volume, which reveals the breadth of Lempad's unique visual imagination. He paid no attention to that ignorance on the part of the great majority of his customers and chose his subject matter according to his own taste. The freedom he showed in modifying the classic plots and characters probably echoed the freedom of the oral, informal storytellers of the time.
My main criticism of this volume is its ungainliness. It is a crying shame that such an important publication is so expensive. Perhaps a way might be found to republish it in a less unwieldy form, with lighter paper and paper covers, and in an Indonesian translation.
Hildred Geertz is an anthropologist whose research has focused on the evolution of Balinese art forms.
Lempad of Bali: The Illuminating Line ­– Bruce W. Carpenter, John Darling, Hedi Hinzler, Kaja M. McGowan, Adrian Vickers, and Soemantri Widagdo (Editions Didier Millet, $200, ISBN 9789814385978)
Click here to buy the latest issue of Apollo
Unlimited access from just $16 every 3 months
Subscribe to get unlimited and exclusive access to the top art stories, interviews and exhibition reviews.
Recommended for you