As a student at the Belfast School of Art in the 1900s, the Irish stained-glass artist Wilhelmina Geddes (1887–1955) won so many prizes that the School had to change its competitions' rules of entry. When one of her designs featured on the invitation to the opening of the New Municipal Technical Institute that was to house the School, however, she lacked the courage to attend the function itself. Thirty years later in 1938, Geddes' huge 25-feet-wide Te Deum rose window was unveiled by Leopold III in the rebuilt Ypres Cathedral. Writing to her mother, Geddes judged this product of three years' painstaking work as 'by no means bad' – an unusually generous piece of self-assessment. She bemoaned, though, that she had stood unsighted at the back of a crowd during the ceremony. Her ticket to sit among the dignitaries and to meet the king afterwards had somehow gone astray she claimed. With her most monumental achievement complete, and as she enjoyed a short-lived degree of fame (she was one of the first artists interviewed on BBC television soon after), she was, characteristically, still not fully party to her own considerable success.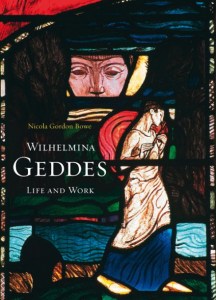 These bittersweet stories are recounted in Nicola Gordon Bowe's retrieval from obscurity of the life and work of Geddes. The culmination of three decades of research and following on from Bowe's seminal biography of another remarkable Irish stained-glass artist, Harry Clarke, it is a book that illuminates Geddes' artistic achievement through its detailed analyses and its many beautiful photographs. Just as interesting is how it seeks to understand, in biographical and historical terms, why her work has not been better known. Drawing on personal diaries and letters, as well as Bowe's peerless knowledge of the wider Irish Arts and Crafts movement, a rich picture emerges of a complicated and somewhat troubled individual who overcame many impediments to produce a powerful body of work that deserves far more recognition.
Geddes' passage away from Belfast and her journey into the medium of stained glass occurred in 1910 when her striking illustration of Cinderella came to the attention of the distinguished Dublin painter Sarah Purser. An energetic promoter of the arts in Ireland, Purser had a few years earlier co-founded the stained glass co-operative An Tur Gloine (The Tower of Glass). By the summer of 1911 Purser had persuaded Geddes to come to Dublin a city undergoing a brief golden period on a number of fronts across the arts. There she took drawing classes with William Orpen, then teaching at the Metropolitan School of Art, and also began to learn the difficult craft of painting windows. Drawing on Irish Revivalist interest in early Irish saints, her first triptych, Scenes from the Life of St Colman MacDuagh of Galway (1911), is a miraculous debut. As Bowe's close reading draws out, it is a symbolically rich composition that marries its archaism and elaboration to a seemingly more modern and sparely expressive handling of the painted and leaded line. It is redolent of a moment in Irish culture when anything seemed possible in forging the new from the old, before the complications of revolution and civil war set in.
Such early promise was to be more than realised in Geddes' subsequent windows. As Bowe recounts, though, the artist's work was increasingly interrupted by spells of physical and mental ill-health, resulting in prolonged periods spent back in Belfast. Purser's patience was often tried but the results, particularly in a succession of memorials produced in the wake of the First World War, were worth the waiting and cajoling. A window such as The Crucifixion and Deposition with the Virgin Mary, St John, St Joseph of Arimathea and St Longinus with Scenes from the Entombment and the Passion (1922) testifies to a remarkable development of style and technique. Commissioned by St Luke's Wallsend on Tyneside as a memorial to the 269 men of the parish who had died in active service, it offers a 'raw, graphic depiction of human grief'. For all its subtle use of colour, it seems to owe something to Geddes' 'bold, even savage' black ink dominated linocut prints of the time, which Bowe argues are comparable in their dark emotional mood to German Expressionist woodcuts. Indeed a welcome aspect of the study is its consideration of Geddes' work in mediums other than stained glass, as well as its attempt to compare her work with wider currents within European modernism.
The working relationship with Purser eventually broke down. In search of better mental health, Geddes moved to London in 1925 to undertake treatment at the progressive Maudsley Hospital. On leaving hospital, she began to work at the Lowndes and Drury workshop in Fulham – a centre for many of London's finest stained-glass painters of the period. The windows she produced from her studio there remained highly accomplished, shifting in style again towards a simplifying and more monumental abstraction – seen in the treatment of the figures in the Ypres rose. But as the years passed she became ever slower to finish her commissions. By the 1940s, in a London now at war, she cut an isolated figure: struggling with her eyesight, somewhat dependent on her psychoanalyst (who also gave much needed piecemeal proofreading and copyediting work), going to Harrods for small luxuries she could ill afford, and looking on at her former pupil Evie Hone's success and recognition with a degree of ambivalence. Nevertheless, there is something heroic about Geddes' ongoing pursuit under straitened circumstances, up until near her death in 1955, of her time-consuming method of painting glass in delicate washes or her still demanding just the right colour and quality of glass with which to work. Geddes' uncompromising art has been matched by Bowe with a wonderful book that is no less rigorous in its pursuit of its fascinating subject and her remarkable work.
The Life and Work of Wilhelmina Geddes by Nicola Gordon Bowe is published by Four Courts Press.
From the January 2016 issue of Apollo. Preview and subscribe here.
Recommended for you