Walking through the vast rooms of historic palaces today, you might stop to admire the extraordinary brushwork of Antonio Verrio, the intricacies of Grinling Gibbons' woodwork, the splendour of silk and velvet furnishings. But there is a stateliness to these spaces that distances their realities from ours. We look at them, move around them, read wall captions or booklets, but the question remains: if these walls could talk, what would they say? Some answers are found in Simon Thurley's new book, Palaces of Revolution. The culmination of nearly 30 years of research, it takes us back in time to bring these 'hollow citadels of ceremony' and those who occupied them to life once again.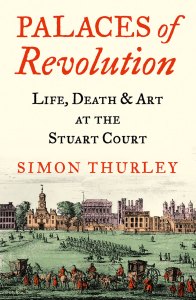 Thurley's account of these buildings treats them not just as places where important historical events occurred, but as homes – where people actually lived and spent their days. In one amusing anecdote we learn that James I (the scholar king), when confronted with a crowd desperate to catch a glimpse of their ruler, shouted 'God's wounds! I will pull down my breeches and they shall also see my arse.' In another we learn that during his extensive building works for a palace at Royston, some locals kidnapped the king's favourite dog, Jowler, before returning it with a note that said 'Good Mr Jowler, we pray you speak to the king […] that it will please his majesty to go back to London, for else the country will be undone, all our provision is spent already, and we are not able to entertain him any longer.' This complaint points to the colossal scale of the palaces of the period.
Indeed, in the 17th century, Whitehall Palace was more of a town than a house, complete with a theatre, and with hundreds of people – ranging from royalty and aristocracy to servants and their families – all packed in together. As the centre of power and government, this was a place on which each of the Stuart monarchs wanted to make their mark. Yet Whitehall today shows little evidence of what was once a vast Stuart palace: all that remains today is the Banqueting House, commissioned by James I and completed in 1622, just three years before his death.
The Banqueting House was designed by Inigo Jones, who had been inspired during a trip to Italy with the Countess and Earl of Arundel and returned bursting with enthusiasm for Italianate fashions. James I was so delighted with the design that he had himself painted standing in front of the building even before it was completed. It subsequently became a kind of temple to the first Stuart king when his son, Charles I, had Rubens depict him almost as a deity in the ceiling paintings, which were installed in the mid 1630s. Most of the panels make the case for the Stuarts' divine right to rule, with the largest and central panel representing The Apotheosis of James I. The late king is lifted towards heaven, carried by fleshy Rubensian female allegories: justice, religion, truth. He still wears his robes of state, but his crown and orb are removed by putti and replaced with a laurel wreath as he ascends to join the only one who can judge him, God himself. Ironically, this image would have been one of the last sights Charles I encountered as he walked to his execution outside the Banqueting House in January 1649.
Royal buildings had both public and private layers: admittance to the latter was dictated by strict protocols of rank and favour. There were state bedchambers used for meetings with ambassadors and dignitaries, private chambers to entertain friends. Monarchs varied in the degree to which they opened up their palaces (some allowed the public in to watch them eat their meals) but what they all shared was the desire to be seen as distinct from and better than their predecessor. James I, who bought up and renovated country houses all over England, offered unprecedented access, while Charles I, who preferred to live more privately, filled the palaces with his personal art collection. During the years of the Commonwealth Oliver Cromwell chose Hampton Court as his primary residence, while Charles II's architectural projects were fundamental to the restoration of the monarchy. James II's conversion of existing religious spaces into sites of Catholic devotion turned his people and parliament against him, while William III was an extremely active builder who drained the country of money to pay for his projects. Part of what Thurley's account conveys is what it must have been like to have lived in a constant building site: no sooner was something finished than it was outdated and updated. The book closes with Queen Anne, the last monarch of the House of Stuart, who lived in these sites of power even as her own political power was much diminished.
One of the book's important achievements is its focus on the Stuart queens. It was often these women who imported Danish, French, Italian and Netherlandish fashions into English architecture: Anna of Denmark gave Inigo Jones his first big commission – the Queen's House, Greenwich – and she was an active patron of architecture throughout her life; Henrietta Maria was a major patron of painters such as Orazio Gentileschi, and she established the 'circle' (a kind of informal salon that was fashionable in France); Mary II worked closely with Christopher Wren on further building works (including the completion of St Paul's Cathedral) and was active in renovations to Kensington and Hampton Court Palaces.
Thurley also shows us the Stuarts in Scotland before they became English monarchs, and we meet them in their various exiles. And we witness a new vision of London appear: Inigo Jones's Covent Garden, St Paul's Cathedral designed by Christopher Wren. The Banqueting House, Thurley writes, was 'not only a glorification of the new British king' but also 'a model for the public architecture of the new capital'. What is made clear throughout, however, is that their buildings – whether royal or civic – cannot be separated from each monarch's vision of their reign: that these venues of history are just as crucial as the events they staged.
Palaces of Revolution: Life, Death and Art at the Stuart Court by Simon Thurley is published by William Collins.