Sir William Burrell's gift of his art collection to the Glasgow Corporation in 1944 was one of the 20th century's great acts of cultural philanthropy. The scope and depth of the shipping magnate's interests in art and antiquities resulted in an internationally important collection of exceptional provenance, including Chinese and Islamic art, medieval art, armour and glass, modern sculpture and Impressionist painting. But it was the tapestries of the medieval and Renaissance periods that Burrell prized most highly.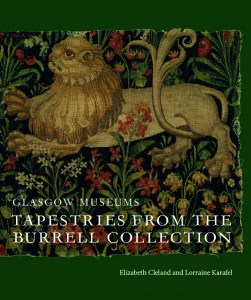 Burrell amassed more than 200 pieces of tapestry which together tell the story of European tapestry, from surviving fragments of the earliest days of production to expansive, technically accomplished hangings with dazzling polychrome designs which had adorned the great palaces and cathedrals of Europe. With an unfailing eye for craftsmanship, Burrell secured such rarities as the Fragment with Parrots and Dragons (1300–50) – informed by a medieval bestiary; and Church and Tree in a Landscape (1373–80), thought to be from one of the lost panels of the Angers Apocalypse, the only major late 14th-century tapestry set to have survived largely intact. Burrell's personal library was furnished with tapestry catalogues and medieval art histories and he hoped to create a similar documentary of his own collection. His aspiration has finally been realised with Glasgow Museums' magnificent new catalogue, Tapestries from the Burrell Collection, by the respected tapestry scholars Elizabeth Cleland and Lorraine Karafel.
The catalogue is prefaced by Elizabeth Hancock's insightful account of Burrell's motivations and methods for collecting and displaying tapestry. To begin with, business took Burrell to Europe, but through this came opportunities to collect and to explore its medieval cities. By the late 1890s he was accompanied by his adviser Robert Lorimer, an Arts and Crafts architect specialising in the restoration of Scottish castles. With his purchase of Hutton Castle near Berwick-upon-Tweed in 1916, Burrell was able to fulfil an ambition to create large-scale tapestry displays. Between 1927 and 1939 Burrell bought an astonishing 117 panels of tapestry – over half of the collection as it survives today – to furnish his new home, at a cost of £257,845.
The logistical effort of Glasgow's conservators, who spent eight years preparing the tapestry collection for cataloguing and publication, is explored in a series of accomplished technical essays. Sarah Foskett places current conservation practice within a care tradition that began in the medieval period, when the cost of a tapestry and the status it conferred ensured it was maintained through cycles of display and storage. Today, conservation unites close observation, revealing the weaver's techniques, with modern scientific methods such as dye analysis, which uses subtle regional variation in pigments to suggest likely workshops in the absence of maker's marks or provenance. The innovative use of ultraviolet photography has had revelatory results, as in images of Triumph of the Virgin (c. 1500), where the dyes and materials used in the original textile can be differentiated from those of a 1930s restoration. The inclusion of photographs of tapestry backs reveals the riot of colour that has avoided light damage, hinting at the splendour of an interior hung with newly woven tapestry.
The catalogue is arranged according to the three stylistically and technically distinct production areas: the Germanic regions of northern Europe, the Southern Netherlands, and England. The German, Swiss, Scandinavian and Dutch pieces examined in part one are characterised by simple and direct designs, their religious and classical subjects influenced by printed-book illustrations. Four Scenes from the Life of the Virgin (c. 1480), for instance, was woven in Switzerland and likely derived from woodblock prints in Paupers' Bibles. The visual appeal of Germanic tapestries is generated by the opulent textile patterns of courtly dress and interiors and textural weaving techniques incorporating metal threads and even human hair.
Germanic workshop production and production is, Karafel notes, an under-researched field. By contrast, tapestries of the Southern Netherlandish and Dutch region, explored in the catalogue's largest section, have benefited from over a century of serious academic study – so that individual tapestries, such as a beautiful deep-blue Verdure with Thistles (c. 1490–1520), can be compared with similar examples in collections in North America and Europe. The breadth and quality of Burrell's collection spans the full range of production from patrons' armorials to more general mille-fleurs ('thousand flowers') verdure. Few of the once vast classical, religious and pastoral-themed tapestries have survived complete, but they still have the power to surprise and delight. Peasants Preparing to Hunt Rabbits with Ferrets (c. 1470–90), is an example of virtuoso tapestry technique, the weavers using slits in the warp to create depth in the details of faces and costumes and texture on baskets and foliage. In Bathsheba Leading Solomon to David's Mule (after 1530), the exquisite arrangement of figures against a backdrop of Renaissance architecture marks a stylistic evolution; Cleland makes a compelling argument that this could be the first of a lost series, The Story of Solomon, part of Henry VIII's collection at Hampton Court.
It was only in the 16th century that an English weaving tradition emerged, stoked by an influx of Flemish weavers fleeing conflict in the southern Netherlands. The extraordinary Luttrell Table Carpet (c. 1514–80) – the arms of Sir Andrew Luttrell and his wife Margaret amid an interlacing geometric design – embodies this cultural crossover: it may have been woven by a migrant Fleming according to an English artist's cartoon. This practice was employed by William Sheldon, who founded England's best-known workshop in 1570, appointing the Flemish weaver Richard Hyckes to oversee production. Many of the English pieces that Burrell collected as examples of 'Sheldon Tapestry' – explored in the catalogue's concluding section – have since been attributed to workshops in London, Barcheston in Warwickshire and Bordesley in Worcestershire. But in taking their subject from popular biblical stories (Stoning of the Elders, c. 1600), or applying grotesque decoration and the patron's armorials (like Verdure with the Arms of Sacheverell; c. 1610), the stylised designs share a visual language with contemporaneous embroidered textiles that is distinctly English.
Burrell's meticulous approach extended to the ledgers he kept recording his purchases and details of a wide-ranging group of collectors and dealers, from impoverished English aristocrats to American businessmen like William Randolph Hearst. The appendices exploring this extraordinary network are an important addition to the study of Western textile collecting in the modern era. Tapestries from the Burrell Collection is a landmark publication in the field of textile history, a fitting testament to a remarkable collector and the team of international scholars and conservators dedicated to raising awareness of his extraordinary tapestry collection.
Tapestries from the Burrell Collection by Elizabeth Cleland and Lorraine Karafel et al. is published by Philip Wilson Publishers in associaton with Glasgow Museums.
From the June 2018 issue of Apollo. Preview and subscribe here.
Unlimited access from just $16 every 3 months
Subscribe to get unlimited and exclusive access to the top art stories, interviews and exhibition reviews.
Recommended for you