This beguiling account of Edwardian houses begins beside the sea, at the easternmost tip of southern England. Perched on the cliffs between Margate and Ramsgate, Kingsgate Castle was an 18th-century folly that was rebuilt as a picturesque flint-walled castle for John Lubbock, 1st Baron Avebury in 1901–12. According to Timothy Brittain-Catlin, this little-known building – the nine lines it is given in the Buildings of England do not even identify its architect – 'will tell you almost everything that is special about Edwardian domestic architecture. Science; politics; archaeology; style; history; castle; fantasy; magic; golf; a contented people in the land of England: it is all there'. However, it is not until the very end of the book that Brittain-Catlin explains the real reason why he has given the castle such a prominent place.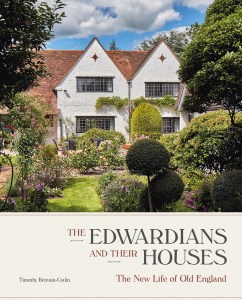 His principal aim is to explore the links between the beliefs of the Liberal political elite and the homes they commissioned. He argues that there was an association between Liberal interest in land reform – which meant breaking the grip of the landed interest on political power – and the design of their houses, which evoked the homesteads of Elizabethan and Jacobean yeomen: in other words, a democratic rather than an aristocratic ideal. Land reform was a policy that reached back into the 1880s and began making a substantial political impact with David Lloyd George's 'People's Budget' of 1909–10 (only glancingly mentioned here), and so the book's narrow focus on the Edwardian period prevents Brittain-Catlin from drawing out the full implications of his thesis. Yet within his self-imposed chronological limits he says a great deal that is stimulating.
In particular, he successfully challenges some distorting preconceptions about Edwardian domestic architecture. Perhaps most importantly, he dismisses the idea of 'dream houses', to use the title of a celebrated book on the subject by Roderick Gradidge, published in 1980. The notion that Edwardian houses were projections of a fantasy life by a doomed elite is based almost entirely on the knowledge of what was to happen in 1914; perhaps the most impressive aspect of Brittain-Catlin's book is that he barely mentions the First World War. Kingsgate Castle may be a romantic evocation of the past designed as a holiday home, but its patron was, in the author's words, 'scientific, optimistic, and astonishingly industrious'.
Lubbock's architect was W.H. Romaine-Walker, a pupil of G.E. Street who could do gothic with the best of them but was equally accomplished in almost every historic style, a talent that he put at the disposal of a largely aristocratic circle of clients. For Street's generation, as for the 20th-century modernists, there was something deeply suspect about such stylistic versatility. To Brittain-Catlin, however, the idea that the Edwardian period was a stylistic free-for-all is exaggerated, and he argues that the ideal was essentially the architecture of 'Old England' – the 16th and 17th centuries. He analyses the work of C.F.A. Voysey in terms not of incipient modernism or Arts and Crafts ideals (it is a pleasure to read a book on the period that rejects the usual exaggerated focus on the Arts and Crafts movement) but as a modern version of Jacobean forms.
Brittain-Catlin's thesis means that country houses are displaced from their customary central role in histories of domestic architecture, although it would have strengthened his argument to have discussed the Liberal reform of inheritance tax, which was to have such important consequences for landed estates in the 20th century. However, this gives him space to discuss a wide range of the period's domestic architecture, and although urban houses are dealt with only briefly (nothing is said about flats), suburban and small rural houses – the quintessential Edwardian domestic building type – are represented in all their enticing variety, on the basis of a great deal of new research, often on little-known architects and their buildings. Occasionally Brittain-Catlin's understandable desire to avoid the over-familiar makes his arguments less telling than they might have been: we learn more about Percy Morley Horder than we do about Edwin Lutyens, for example, and he bases his analysis of garden-city principles not on Letchworth but on Gidea Park.
One of the richest elements of the book is the way that it draws together the built houses with the images that we have of them from the enormous contemporary literature on domestic design. Key to that literature is Country Life, of which Brittain-Catlin gives an exemplary account, seeing beyond its reputation as a celebration of country houses to its practical agenda, as exemplified by its articles on new small houses in the countryside: 'the magazine maintained a rational economic view of building, building repair and estate management, and village restoration, thus establishing an essential new facet of English positivist architecture: the buildings they liked made financial sense for landowners.'
Yet Country Life's writers – and even more its photographers – were responsive also to a romantic and nostalgic view of rural houses. Brittain-Catlin gives this its due partly by the beautiful photographs taken for the book by Robin Forster. He also acknowledges the role of literature, including children's books as well as such novels as Howards End, in shaping our understanding of Edwardian ideals (one of Romaine-Walker's many talents was book illustration – he specialised in fairies), and he makes perceptive use of E. Nesbit's Harding's Luck, which concerns a London slum child redeemed by time-travelling to Jacobean England. We are told that this is a book that the author had read to him in childhood, and in the closing pages he reveals why he started with Kingsgate Castle: he was brought up in one of the apartments into which it was converted. This refraction of the author's understanding of Edwardian domestic design through childhood memories may help to explain the warmth and perhaps also some of the idiosyncrasies of his approach to his subject.
The Edwardians and Their Houses: The New Life of Old England by Timothy Brittain-Catlin is published by Lund Humphries.
From the September 2020 issue of Apollo. Preview and subscribe here.
Unlimited access from just $16 every 3 months
Subscribe to get unlimited and exclusive access to the top art stories, interviews and exhibition reviews.
Recommended for you