'There are two figures in society whose words are less important than their deeds: the politician and the artist. An Arab painter who sits holding forth about art instead of actually painting is much like the Arab politician who stands on a podium lecturing us about our future history as we lie in our beds.' It feels a little dangerous to include these words, from an essay called 'Art in the Time of the Palestinian Revolution', written in 1971 by the Jerusalem-born painter Kamal Boullata, in an anthology of writing by and about artists from the Arab World. It is a truism to say that if artists could express their meaning fully in words they would not need to make art, but it seems impossible to stop them trying or to stop people wanting them to do so.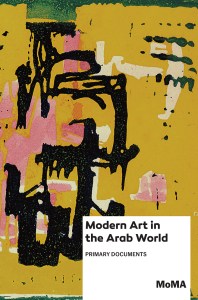 This, the eighth volume in MoMA's series of 'primary documents' on modern art (which also includes books on China, Japan and Eastern Europe), is a vast repository of translated writing and new essays by artists and also academics, accompanied by 49 colour illustrations. It spans the period from 1882 to 1987 and countries from Morocco to Sudan, Yemen to Iraq, beginning with an entry on painting from Butrus al-Bustani's monumental late 19th-century Arabic Encyclopaedia project and ending with a personal reflection by Vera Tamari on the beginning of the First Intifada in 1987. Its length and breadth mean that it will be essential for anyone interested in the history of art from the Arab World; the editors' view is that we should not say 'Arabic art' because not everyone from the countries in Africa and the Middle East identify themselves as Arabs.
Can this book defend the fraught enterprise of writing about art? There are a few times in this collection when one wishes that certain artists had said nothing, particularly when they are holding forth on the heroic figure of the artist. If only Kamal Boullata had whispered in César Gemayel's ear before he wrote, in 1943, 'My profession is introducing the gods to humanity and elevating humanity to the level of the gods.' The New Vision manifesto, signed by six artists in Baghdad in 1969, drifts into self-importance when it declares, 'The artist is a fighter who refuses to put his weapon down as he speaks in the name of the world, and in the name of the human.'
But, largely, the attempts to find a language to speak about art produce some valuable insights as well as heated arguments. Often the reader who is not well versed in the art history of the Arab world will find themselves on familiar ground, as the book asks questions about an artist's relationship to society, debates 'art for art's sake' and interrogates whether an artist is obliged to depict the world as it is or find a way to change it. Figures such as Goethe, Ruskin and Picasso recur throughout the original sources.
Other themes and concerns, more rooted in the specific political context of the region, occupy many of the other essays. One debate that is present in various forms, from the start to the finish, is that central question of how artistic production relates to the experience of colonialism: what relationship does the art of a colonised country have with the coloniser's culture? Should artists in the Arab World follow art movements that were seen as European, or should they attempt to foster a culture of their own, rooted in their own traditions? The artists in this anthology come up with many different answers to the problem, often tinged with anger or expressed with a withering put-down. 'Gentlemen, do you really believe that taking trips to Paris is, for a painter, something original, or a heroic exploit that confers upon that person the right to pose as a professor or master thinker?' This is how the Tunisian painter and sculptor Zubeir Turki responded in 1967 to a group of artists based in Europe who had mocked the 'national culture' that his movement was trying to recover as 'bastardized, caricatural, "exotic"'.
There are some less predictable, repeated concerns, too. The first extended debate is not between visual artists but between three writers, May Ziadeh, Amin Rihani and Kahlil Gibran, on Ruskin, romanticism and beauty. The differences between writing and painting are collapsed when Gibran praises Ziadeh's new book: 'I have never in my life seen two portraits drawn with such lines and such colours.'
There is a curious collection of comments left at two art exhibitions in two different cities in 1933. In Jerusalem, one visitor praises the painter Zulfa al-Sa'di as 'a wellspring of verse and oratory'. In Beirut, a visitor to Moustafa Farroukh's show describes shedding two tears; 'the first fell when [he] saw the signs of beauty revealed in the book Farroukh has written with the ink of his organs, the pen of his art […] The second fell when Farroukh came to read his book to a people he found could not comprehend any part of its language.'
This idea that art and literature are closely linked, but also that a certain division exists between them that cannot be easily expressed, is frequently repeated. 'Modern painters and sculptors perform the work of poets,' the Algerian writer Henri Kréa argued in 1964. The Iraqi sculptor and painter Jewad Selim said a decade or so earlier, 'I do not differ much from the writer. I too observe, but what I see does not arouse in me those marvelous symbols the writer excels in using. Rather, different symbols arise in my head.'
A thematic, rather than chronological, organisation of the material in this large collection would have made it more manageable. However, the constant awareness of both the possibilities and difficulties of speaking or writing about art and its potentially revolutionary mission makes this fascinating anthology a worthwhile contribution to the global conversation about art.
Modern Art in the Arab World: Primary Documents by Anneke Lenssen, Sarah Rogers and Nada Shabout (eds.) is published by MoMA.
From the October 2018 issue of Apollo. Preview and subscribe here.
Unlimited access from just $16 every 3 months
Subscribe to get unlimited and exclusive access to the top art stories, interviews and exhibition reviews.
Recommended for you