A round-up of recent news and comment from The Muse Room
Hiroshi Sugimoto on fossils and photos
Thessaly La Force and Hiroshi Sugimoto discussed art, collecting, and the similarities between fossils and photographs when they met in his New York studio recently. You can now read the full interview from this month's issue of Apollo, online.
In praise of postcards
Do you find still collect postcards at museums? Then you'll be pleased to hear that curator and journalist Sophie Hill has dubbed 2015 the 'Year of the Postcard'. Katy Barrett visits Mario's Café in Kentish Town to enjoy the first in a series of postcard displays…
The unlikely success of fig-2
The pop-up programme fig-1 (which delivered 50 exhibitions in as many weeks) was ground-breaking in the year 2000. But is reviving the concept 15 years later a good idea? Digby Warde-Aldam wasn't convinced, but he's been won round by fig-2 so far…
New displays at the Wadsworth Atheneum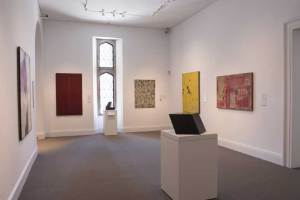 The Wadsworth has reopened three dedicated post-war and contemporary galleries after a major refurbishment and re-hang. We asked the curator, Patricia Hickson, to pick out some of the highlights from the collection.
Work in focus: Tàpies
Every one of Antoni Tàpies' paintings is packed with symbolism and emotional charge. So rather than asking for an overview of Pérez Art Museum's retrospective exhibition, we looked closely at a single late work, Matèria rosada, with the curator Tobias Ostrander.
Recommended for you