From the February 2015 issue of Apollo: preview and subscribe here
If Paul Scheerbart (1863–1915) is known outside the German-speaking world, it's as an architectural prophet. The Gdansk-born writer's reputation stands on Glass Architecture (1914), a series of surreal, optimistic and apparently ingenuous aphorisms about the benefits of a future environment made entirely of iron, concrete and (obviously) glass. Glass Architecture was rediscovered in the English-speaking world by Reyner Banham in his 1960 book, Theory and Design in the First Machine Age, which which presents Scheerbart, with Marinetti and Malevich, as one of the inadvertent fathers of the modern movement in architecture and design; this was opposed to Nikolaus Pevsner's claim that its parentage came from William Morris. Banham's account gave little sense of the joy, strangeness and wit of Scheerbart's work. However, a new anthology, Glass! Love!! Perpetual Motion!!!, tries to convey its full range, presenting Scheerbart as a polymath, a writer of lightly experimental fiction, a humorist, and a thinker of modernity and its possibilities.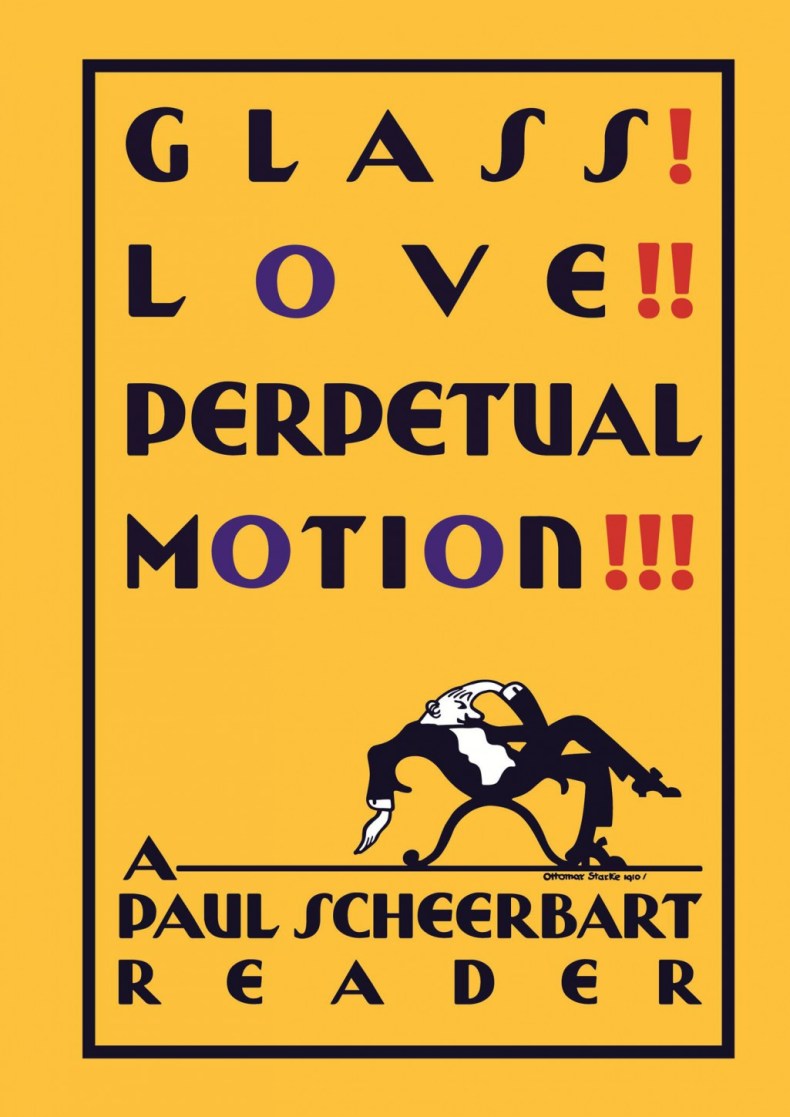 The book is roughly organised into three sections: one on 'glass', one on his serio-comic proposals for a perpetual motion machine, with the 'love' section, which contains several short stories, in the middle. The first part reveals how little Scheerbart's conception of 'glass architecture' has to do with that which came to dominate financial centres all over the planet. Scheerbart's glass is iridescent, coloured, shaped; glass mosaic, glass prisms, 'glass hair', designed not to reflect, or to see through, but to create complex kaleidoscopic effects. The uses Scheerbart wants it put to are even more improbable and utopian, and phrased in his delightfully modest, gently insistent style, a fantastical mode of writing that, as Scheerbart-fan Walter Benjamin put it, 'eliminates magic'. 'The whole of Switzerland could have her mountains lit up at night by glass architecture', Scheerbart tells us. 'Glass homes will be built deep in the sea, creating a special kind of luxury architecture, cool and very peaceful.'
What pushes Scheerbart's writing into the unexplored zone between fantasy and serious architectural advocacy is that he knows how to build the follies he imagines, giving much attention to the possibilities of the steel or concrete frame to make it happen. The disdain for both the 'copying' of traditional architecture (and most of all the pestilent misery of masonry, especially brick) coexists with equal scorn for the 'functional style'. Josiah McElheny's contemporary glass artworks, spread across the text, give much more of a sense of what Scheerbart expected from the glass world.
Scheerbart's glass architecture never came to pass, bar a few of the 1960s' more eccentric experiments. One can imagine him approving of the Ješteˇd TV Tower in the Czech Republic, where glass meteors slam into the peak of a mountain, more than the Seagram Building. Bruno Taut did build a Glass Pavilion with Scheerbart's participation at the Cologne Werkbund Exhibition of 1914. The correspondence between the two and contemporary reception of the bizarre, polychromatic building are included here, as are aphorisms Scheerbart wrote for it – 'Without a palace of glass, life is a burdensome task.' Placed next to Taut's list of glass suppliers – Luxfer Prism Glass, Keplerian Reinforced Concrete Glass – the aphorisms read like utopian poetry and advertising copy.
The short stories and the long text on perpetual motion are equally unique, often illustrated by Scheerbart's drawings of the faces of planets and the like. These are supplemented by an itemised bibliography of Scheerbart's titles (under WHILE DRINKING: 'My Ink is My Ink, a Blotosophism'; 'Bring Me Wine! A Despotic Piece', under POLITICIANS: 'The End of Barbarian Revolutionary Garb'). Scheerbart was not the fantasist, the technocratic Edward Lear, that he sometimes seems to be. These very short tales are political children's parables, revealing why Scheerbart was a popular figure on the left. In 'A Trial of the Year 1901', revolution breaks out in the streets and passersby ignore the trial of a clerk for not having enough money. In the wonderfully sly 'Atlas, the Comfortable', philosophers ask the God how to achieve world peace. Kill the rich, he suggests. The philosophers suggest this to the rich, who agree to kill themselves in good time, but have not done so by the end of the story. However, 'a few rich people even gave some of their riches to the clever philosophers! And this pleased the philosophers greatly.' Scheerbart also predicted post-war Keynesian economics as much as he did the methods, if not the style, of post-war architecture.
Scheerbart, who according to some accounts starved himself to death in protest at the First World War, was aware that his utopia was impossible, but he was enough of an enthusiast to try to create it. In his tract on perpetual motion, he ruefully notes that obtaining funding would be tricky: 'Wherever I show my face, massive bankruptcy is not far behind'. However, he saw hope elsewhere, outside warring Europe. In 'At the Glass Exhibition in Peking' (1912), a traveller notes 'a huge glass city springing abruptly from the earth' a mile from the Chinese capital. 'Poor Europe', he concludes, 'how poor you seem by comparison! How poor!'
Glass! Love!! Perpetual Motion!!! A Paul Scheerbart Reader – Josiah McElheny and Christine Burgin (eds.) University of Chicago Press, $40, ISBN 9780226203003.
Owen Hatherley's most recent book, Landscapes of Communism, is published by Allen Lane.
Click here to buy the latest issue of Apollo
Black Friday sale: 6 months for the price of 3
Subscribe using our Black Friday sale to get six months of the most incisive art writing available for the price of three.
Recommended for you