This week's competition prize is On Being An Artist, by Michael Craig-Martin (Art/Books, £22.50). Click here for a chance to win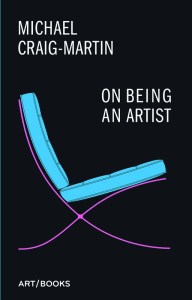 Celebrated artist and influential teacher Michael Craig-Martin's first book is a lively mix of reminiscence, personal manifesto, anecdote and advice for the aspiring artist. Craig-Martin reflects with both wit and candour on the many people, ideas and events that have shaped his professional life. In a series of short and entertaining episodes, he recounts his time studying under the influence of legendary artist Josef Albers at Yale University School of Art and his memories of meeting personal heroes such as Andy Warhol, Jasper Johns and John Cage. He recalls, too, his first tentative steps as a practising artist and emergence as a key figure of early conceptual art in Britain. As he considers the development of his own career and the evolution of the art world over the last half century, he offers the benefit of insights gained from his professional highs and lows, revealing the essential attributes and knowledge that one needs as an artist today.
For your chance to win simply answer the following question and submit your details here before midday on 24 April 2015.
At which London art school did Michael Craig-Martin teach during the '70s and '80s?
This competition closes at midday on Thursday 24 April 2015.
For our last competition prize we offered Ravilious, by James Russell (I. B. Tauris, £25)
We asked: For which manufactory did Eric Ravilious design his Alphabet mug in 1937?
Answer: Wedgwood
Congratulations to the winner, Melanie Hodge.
Recommended for you