Apollo offers you the chance to win a superb free book.
Simply answer the question in the competition and you could win one of the finest art history books.
For our last competition prize we offered Anti-Ugly: Excursion in English Architecture and Design by Gavin Stamp (Aurum Press, £16.99)
We asked: Which English architect designed the London church featured on the cover jacket of Gavin Stamp's Anti-Ugly?
Answer: Nicholas Hawksmoor
Congratulations to Philippa Barton, winner of this competition, drawn at random from the hundreds of correct answers we received.
This week's competition prize is Matisse: The Chapel at Vence by Marie Thérèse Pulvenis de Séligny (Royal Academy Publications, £60)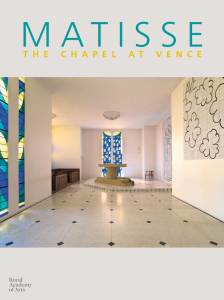 Matisse considered the Chapel of the Rosary in Vence as the culmination of his working life: 'I regard it as my masterpiece.' Matisse: The Chapel at Vence describes how he came to design and plan every element of a chapel in his last years, and examines those elements in detail, exploring his inspiration and the motivation behind each one, and placing the work in the larger context of the role of an artist and his legacy. Illustrated with specially commissioned photography that captures the chapel exactly as Matisse envisaged it, this book offers an intimate view of a unique spiritual space.
For your chance to win simply answer the following question and submit your details below before midday on 13 December 2013.
In which year was the Chapel of the Rosary in Vence completed?
To enter the competition, send your answer to bookcomp@apollomag.com, along with your full name and postal address. Please also let us know if you would prefer not to receive email newsletters and competition announcements from Apollo in the future.
This competition closes at midday on 13 December 2013.
Recommended for you