Apollo is counting down to Christmas by celebrating some of the greatest acquisitions, gifts and bequests of 2013. We'll take a closer look each day at one of the outstanding objects, works of art or collections shortlisted for the Apollo Awards Acquisition of the Year.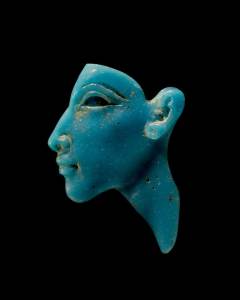 Corning Museum of Glass, New York
Portrait Inlay of the Pharaoh Akhenaten
c. 1353–36 BC
Egypt
Opaque glass, 4.2×2.9cm
This delicately modelled inlay would have formed part of a full-length depiction of Pharaoh Akhenaten, the unorthodox father of Tutankhamun who ruled during the 18th Dynasty, and relocated the Egyptian capital from Thebes to Amarna. The elegant long neck, slanted eye, high cheekbones and full lips are typical of the exaggerated artistic style that flourished briefly during Akhenaten's reign. Decorative materials may have been inset into recessed areas. Exceptionally well crafted, this is the only Egyptian inlay in the museum's collection that depicts a royal subject.
Recommended for you