This week's competition prize is Endeavouring Banks: Exploring the Collections from the Endeavour Voyage 1768–1771, published by Paul Holberton Publishing (£40). Click here for your chance to win.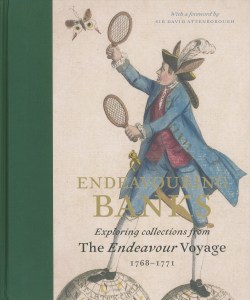 When English naturalist Joseph Banks (1743–1820) accompanied Captain James Cook (1728–1779) on his historic mission into the Pacific, the Endeavour voyage of 1768–1771, he took with him a team of collectors and illustrators. They returned with unprecedented collections of artefacts and specimens of stunning birds, fish and other animals as well as thousands of plants, most seen for the first time in Europe. The many specimens and artefacts, portraits of key personalities aboard the ship, scale models and plans of Endeavour itself, scientific instruments taken on the voyage, commemorative medals and sketches featured in this new book tell the story of the Endeavour voyage and its impact ahead of the 250th anniversary in 2018 of the launch of this seminal mission.
For your chance to win simply answer the following question and submit your details here before midday on 15 July.
Joseph Banks was the first director of which famous botanical gardens?
This competition closes at midday on 15 July.
For our last competition prize we offered Edward Bawden Scrapbooks by Peyton Skipwith and Brian Webb, published by Lund Humphries in association with the Fry Art Gallery (£35).
What was the name of the mural Edward Bawden created for the Festival of Britain in 1951?
Answer: English Country Life
Congratulations to the winner, Nick Hand.
Recommended for you