Spotted around London this week
Day 1 | Day 2 | Day 3 | Day 4 | Day 5

What We Like
At Frieze Masters
Norman Rosenthal has overseen 'Collections', a run of stands dedicated to focused presentations of single types of object or material. Sycomore Ancient Art has a compelling display of ancient Egyptian wooden sculpture, including a shelf of votive items dating to the 18th dynasty: one cosmetics spoon takes the form of a taut jackal, clasping a clam shell in its mouth. Bazaart shows maiolica – a terrific hoard of colour at the heart of the fair.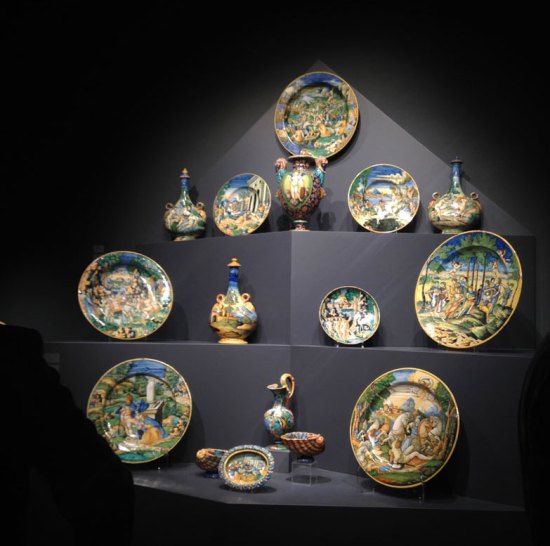 Elsewhere, Johnny Van Haeften has gone immersive, with a special soundtrack to accompany a large Marten van Cleve oil showing a Flemish wedding procession. After a bit of barking and other bucolic business, the piper strikes up…
At Stair Sainty's stand is Goya's Portrait of Don Pedro Gil de Tejada. Goya captured vanity and pomposity like no portrait painter before or since, but when a sitter appealed to him, he didn't ignore it. Don Pedro Gil de Tejada was a banker, depicted here in his pomp. He eventually died fighting the invading French. Going on Goya's depiction, he also seems to have had roguish charm; exactly the kind of guy you'd want for company at a Frieze party.
Don't miss Ellsworth Kelly's White Brown at Matthew Marks, either. Looking at this huge, angular Kelly painting, it's as if the composition has sprung from the wall to punch you in the face. It's aggressive from every angle, a stunner in every sense. Ka-pow!
Finally, the canny curators of Dickinson's stand are making the most of an opportunity to crowdsource the art world's expertise. 'Despite exploring every angle we have not been able to discover the identity of this artist', reads the wall text next to a Léger-like painting. Any ideas? They're stumped.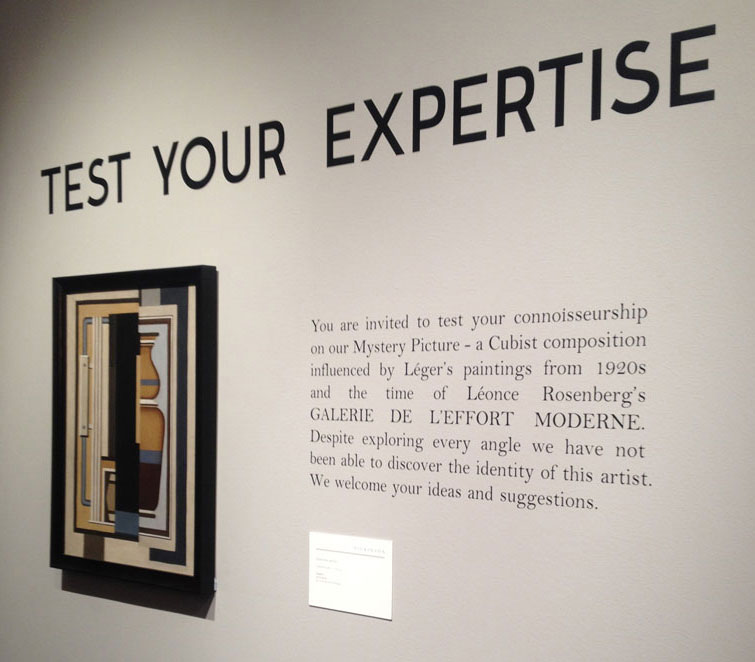 At Frieze London
Glossing over the art, the great and the good piled into the Petersham Nurseries restaurant as soon as the fair opened to the public. Once its seating capacity was reached, prominent Frieze guests were less than amused to be informed of a 30 minute wait for available spaces.
More on the Frieze fairs to follow through the week…
At Christie's
That Modigliani. Nu Couché (Reclining Nude), flashing its flesh in London before it comes to the block with a monster price tag in New York next month. Don't miss the Cézanne watercolour of a pipe smoker in the preceding room. It's a humble triumph.
At the ICA
Mark Cawson (aka Smiler) presents a collection of black and white photographs of London squats from the 1970s to '90s. On a similarly anti-establishment note, Prem Sahib's sculptures, paintings and works on paper stage a 'conceptual' journey through the seedier side of clubbing culture. Tiled columns, a disco dance floor muddied with footprints, puffer jackets stuffed into glass vitrines and a shirt stained with MAC foundation evoke the lustful delirium of European nightlife…
What We've Seen
Anish Kapoor appraising a gold-ground painting by Luca Di Tommè at the Moretti Fine Art/Hauser and Wirth stand at Frieze Masters. And so should everyone – it's the first painting you see when you walk into the fair.
Nick Serota and Maria Balshaw catching up in the 'Asylum' at Helly Nahmad's Frieze Masters stand.
Grayson Perry deep in conversation with Janet Street-Porter
US art critic Jason Farago posing for his friends with a copy of Apollo's 40 Under 40.
Day 1 | Day 2 | Day 3 | Day 4 | Day 5
Unlimited access from just $16 every 3 months
Subscribe to get unlimited and exclusive access to the top art stories, interviews and exhibition reviews.
Recommended for you