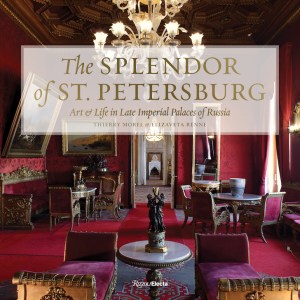 St Petersburg is particularly known for its palaces. The very first, built by Peter the Great in 1710–14, just a few years after he founded the city – his 'window on Europe' – is paradoxically modest. It was at the grandiose residence of his favourite, Alexander Menshikov, the city's first governor general, that the tsar established his court and received foreign diplomats. Menshikov set the tone, but when other nobles proved slow to leave Moscow and follow suit, Peter placed a ban on building in stone anywhere else in Russia and forced them to move to the new capital. The gloriously immodest dacha he built outside the city at Peterhof, his 'answer to Versailles', became the new benchmark. It was in the 1750s, under his daughter Elizabeth, that palace-building took off. Within a few decades, St Petersburg boasted some of the grandest residences in Europe, and dozens more sprang up over the course of the 19th century to accommodate burgeoning numbers of minor Romanovs and aristocratic scions. It is to five of these comparatively little-known palaces that this handsome new publication is devoted. Having been nationalised and taken over by professional organisations after 1917, three offer at best only limited access to tourists, and it is hard to imagine a better vade mecum to the treasures they once contained.
Although the book's title refers to 'imperial palaces', strictly speaking only the first two chapters qualify, namely the Vladimir Palace, formerly the property of Grand Duke Vladimir, younger brother of Alexander III, and the Marble Palace, home from 1888 to Grand Duke Konstantin Konstantinovich, grandson of Nicholas I. Both are situated close to the Winter Palace. The Polovtsov, Stroganov and Yusupov Palaces, further away, were merely aristocratic residences. None are much to look at from the outside, as Catherine the Great replaced the exuberant baroque architectural style favoured by Elizabeth with a sober classicism emulated by her male successors, but, in a reversal of the idea of the Potemkin village, their plain, monumental facades conceal opulent interiors that have somehow survived the ravages of war and revolution. Thierry Morel and Elizaveta Renne bring them vividly to life by fleshing out the lives of the privileged individuals who once inhabited them, and documenting the remarkable world of artistic refinement they created for themselves through the elaborate furnishings and priceless works of art they chose to reflect their personal tastes. These are all copiously illustrated with superb photographs taken especially for this volume by Stanislav Lutfirahmanov, a graduate of the St Petersburg Academy of Arts, as well as a host of fascinating archival pictures which show the interiors as they once were.
The residents of these palaces demonstrated eclectic tastes typical for the world of elite interiors of late 19th- and early 20th-century St Petersburg. Florentine Renaissance, Russian baroque, oriental and art nouveau styles all jostle in the design scheme of Grand Duke Vladimir and his German-born wife Maria Pavlovna, for example, where visitors would encounter their collections of imperial porcelain, Fabergé, and Russian realist art. Grand Duke Konstantin preserved the original Rinaldi interiors at the Marble Palace, but preferred a gothic and Second Empire aesthetic in his family's private apartments, which he hung with religious art of the Italian Renaissance and Russian landscapes. The interior decoration of the Polovtsov Palace with its diverse French styles, from Henri II to Louis XVI, reflects its owner's absorption in history. The cosmopolitan Alexander Polovtsov collected everything from antique Chinese porcelain to Flemish tapestries. The oak and walnut panels in his fabulous Italian Renaissance-style library were made in Florence. Pavel Stroganov and Felix Yusupov inherited and added to the enormous art collections put together by their illustrious forebears, and also displayed historicist tastes when it came to interior design.
During Soviet times, the former residents of these conspicuously extravagant tsarist palaces were airbrushed out of history as much as possible, and the authors draw skilfully on new Russian sources to bring them out of the shadows. While neither the discerning and retiring Pavel Stroganov nor the flamboyant Felix Yusupov led public lives of note, Alexander Polovtsov had a distinguished civil service career; Grand Duke Vladimir was president of the Academy of Arts from 1876 until his death in 1909, and an important early supporter of Diaghilev; the erudite and artistically gifted Grand Duke Konstantin, a published poet, held senior military posts and befriended Tchaikovsky. Their stories are all told with verve, but with a degree of reticence. Grand Duke Vladimir, after all, was also commander of troops in St Petersburg, and his order to open fire on the infamous 'Bloody Sunday' procession of January 1905 so outraged Valentin Serov that he resigned from the Academy in protest. Grand Duke Konstantin was a dutiful family man, who had six children with his German-born wife, Alexandra, but their marriage was not one of equals, and the publication of his diaries in 1994 – nearly 80 years after his death in 1915 – revealed his struggle with homosexual urges.
Given the care invested in this sumptuous volume, it is sad to report a dearth of proofreading, suggesting it was rushed into press. 'Bryulov' has never been an accepted spelling of the architect Alexander Bryullov's name, or that of his celebrated artist brother Karl, while 'Vassily Klassen' in one caption is referred to as 'Vasiliy Classen' in the following one (and as Vasily Classen in the index). Confusingly, Konstantin Konstantinovich's grandfather is Constantine Pavlovich (his father is variously Konstantin Nicholayevich and Konstantin Nikolaevich); Count Pavel Stroganov is listed without his title in the chapter heading, and becomes 'Paul' in the chapter itself. Tchaikovsky's ballets Sleeping Beauty and The Nutcracker were premiered in 1890 and 1892 respectively, not 1889, and the association of realist artists known as the 'Wanderers' was officially formed in 1870, not 1863, which was when rebels first took a stand against the Imperial Academy. By filling in some important missing pages from Russian history, this is a publication which has tremendous scholarly value beyond its popular appeal, so hopes must be placed in a revised edition.
The Splendor of St Petersburg: Art & Life in Late Imperial Palaces of Russia by Thierry Morel and Elizaveta Renne is published by Rizzoli Electa.
From the March 2020 issue of Apollo. Preview and subscribe here.
Unlimited access from just $16 every 3 months
Subscribe to get unlimited and exclusive access to the top art stories, interviews and exhibition reviews.
Recommended for you