A round-up of recent news and comment from The Muse Room
Art Fair Season: BRAFA preview
BRAFA kicks off the 2015 art fair season in Brussels this weekend. Emma Crichton-Miller previewed the fair in our January issue. If you're planning a visit, be sure to check the talk programme, which includes an introduction to metalpoint drawings in partnership with Apollo (30 January).
Theaster Gates wins the Artes Mundi 6 Prize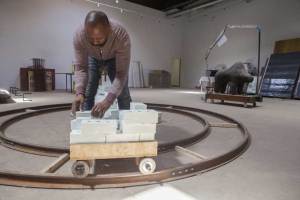 Congratulations to Theaster Gates, winner of this year's Artes Mundi prize. An exhibition of work by the shortlisted artists is open in Cardiff until 22 February. Artes Mundi's director, Karen MacKinnon, took us on a virtual walk round the show.
Art, crafts and curating in Sunderland
What are our expectations of art versus craft: can art be functional, or design whimsical? We spoke to George Vasey, curator at the Northern Gallery for Contemporary Art, about a new exhibition looking at the intersections between art, craft and design.
Recommended for you