Apollo is counting down to Christmas by celebrating some of the greatest acquisitions, gifts and bequests of 2013. We'll take a closer look each day at one of the outstanding objects, works of art or collections shortlisted for the Apollo Awards Acquisition of the Year.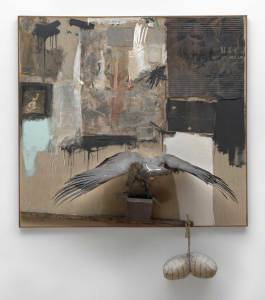 Museum of Modern Art, New York
Canyon, 1959
Robert Rauschenberg (1925–2008)
Oil, pencil, paper, metal, photograph, fabric, wood, canvas, buttons, mirror, taxidermy eagle, cardboard, pillow, paint tube and other materials, 207.6×177.8×61cm
Gift of the family of Ileana Sonnabend
© 2012 Museum of Modern Art, NY
Photo: John Wronn
This striking example of Rauschenberg's revolutionary 'combines', which rejected distinctions between painting, sculpture and collage, joins five others in MoMA's collection – Bed (1955), Rebus (1955), Rhyme (1956), Factum II (1957) and First Landing Jump (1961). It is gifted to the museum by the family of the influential dealer Ileana Sonnabend (1914–2007). It is perhaps inspired by Rembrandt's The Rape of Ganymede of around 1650, in which a youth is abducted to serve as Zeus' cup-bearer on Mount Olympus. Here, a stuffed bald eagle spreads its wings near a trussed-up pillow representing the unlucky abductee.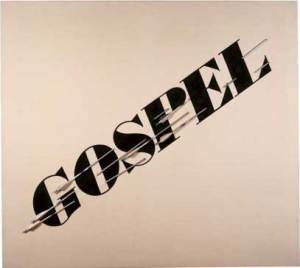 Art Gallery of New South Wales
Gospel, 1972
Ed Ruscha (b. 1937)
Acrylic and aluminium on raw canvas 137.2×152.4cm
Gift of the Art Gallery Society of New South Wales with matched contribution from Ed and Danna Ruscha, supported by Gagosian Gallery
© Ed Ruscha
On his appointment as director, Michael Brand was invited to select a work for the collection. Brand's choice of an early painting by Ruscha, whom he worked with as director of the Getty Museum, furthers his mission to strengthen the gallery's ties with the US. Pierced by arrows, the work subversively evokes the theme of martyrdom, and will feature in 'Pop to Popism' at the museum next year. Only one other work by Ruscha is in an Australian museum (at the Queensland Art Gallery). The painting has come directly from the personal collection of the artist.
Unlimited access from just $16 every 3 months
Subscribe to get unlimited and exclusive access to the top art stories, interviews and exhibition reviews.
Recommended for you