Apollo is counting down to Christmas by celebrating some of the greatest acquisitions, gifts and bequests of 2013. We'll take a closer look each day at one of the outstanding objects, works of art or collections shortlisted for the Apollo Awards Acquisition of the Year.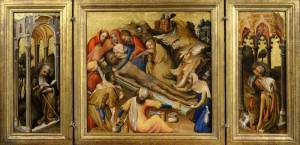 Museum Boijmans Van Beuningen, Rotterdam
Triptych with the Anointing of Christ's Body, c. 1410–20
Bruges (?)
Oil and gold leaf on oak panel
Centre 31×31.9cm; side panels 31×12.8cm
Purchased with support from the Rembrandt Association, Mondriaan Fund, Prins Bernhard Cultuurfonds (Breeman Talle Fonds), VSBfonds, SNS REAAL Fonds, the BankGiro Lottery and the Museum Boijmans Van Beuningen Foundation
Only 20–30 Netherlandish paintings are known to survive from the early 1400s. Dating from the period before Van Eyck, this one's unusual subject, and the depiction of Saint Anthony (invoked to ward off illness) on the left panel, suggest this triptych may have been made for a hospital. Discovered in a private collection, it is exceptionally rare that an unknown painting of this quality should come to light, and the Boijmans' acquisition will go on permanent display alongside the only Van Eyck in a Dutch collection (The Three Marys at the Tomb, of 1425–35).
Unlimited access from just $16 every 3 months
Subscribe to get unlimited and exclusive access to the top art stories, interviews and exhibition reviews.
Recommended for you