Apollo is counting down to Christmas by celebrating some of the greatest acquisitions, gifts and bequests of 2013. We'll take a closer look each day at one of the outstanding objects, works of art or collections shortlisted for the Apollo Awards Acquisition of the Year.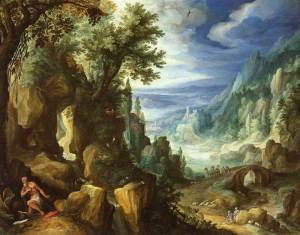 Mauritshuis, The Hague
Mountainous Landscape with Saint Jerome, 1592
Paul Bril (c. 1554–1626)
Oil on copper, 25.7×32.8cm
Acquired with the generous support of the BankGiro Lottery and a private donor
Born in Breda and trained in Antwerp, Paul Bril followed his brother Matthijs to Rome in 1575–76 where they enjoyed considerable success as fresco painters. His works on canvas, panel and copper – including this small landscape – were produced later in his career. Probably his first on copper, this gem of a painting is inscribed on the back with the date and the artist's initials. Bril incorporates a wealth of detail, squeezing the nominal subject of Saint Jerome into the bottom-left corner. The Mauritshuis' primary focus is on works that underscore the close relationship between Flemish and Dutch painting, and as such this landscape complements the masterpieces by Rubens, Van Dyck and Jordaens in the museum's select holdings. It will go on display at the palace when it reopens in mid 2014; until then, it can be seen at 'Masters from the Mauritshuis' at the Gemeentemuseum, The Hague.
Recommended for you