Carrying Off the Palaces: John Ruskin's Lost Daguerreotypes
Ken and Jenny Jacobson | Bernard Quaritch Ltd, £85 | ISBN 9780956301277
View the Book of the Year Shortlist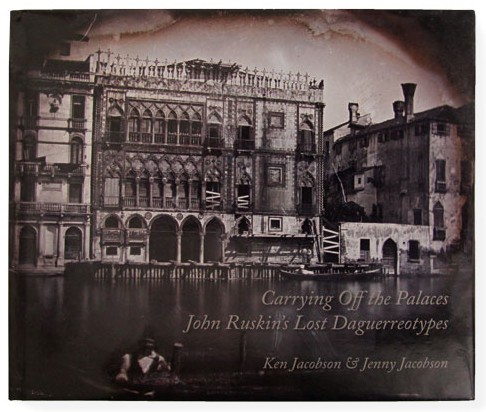 Apollo Award Winners 2015
Personality | Artist | Acquisition | Exhibition | Digital Innovation | Book | Museum Opening
Just occasionally a major work of scholarship carries a memorable emotional charge. Here is a book of great significance for both the history of photography and an understanding of one of the most influential of all art critics that is also a gripping detective story and a tale of the survival against all the odds of a remarkable artistic legacy. As Marcus Waithe wrote in his review in May, 'this book haunts the imagination.'
In 2006 the photographic historians Ken and Jenny Jacobson bought an unprepossessing lot at an auction in Penrith, listed in the catalogue as a mahogany box containing 19th-century photographs of 'buildings' and 'stonewark' (sic). Their hunch that it might be the treasure for which they had been searching was triumphantly justified: the box contained 188 daguerreotypes of Venice, Tuscany, France and Switzerland bought, commissioned or made by John Ruskin between 1849 and 1855, when he was writing The Stones of Venice. They had vanished when many of the contents of his home, Brantwood in the Lake District, were dispersed at a ramshackle auction in 1931. Even without the Ruskin connection this would have been a major discovery: these are some of the earliest known photographs of Venice and the Alps.
As well as recording their discovery, and describing the laborious restoration of the fragile images, the Jacobsons have provided a catalogue raisonné of all 325 of Ruskin's known daguerreotypes. The book, very beautifully produced by Quaritch, sets them in the context of his work as a photographer and the relationship between art and photography in the mid 19th century. It also explains the significance to historians of these unparalleled images of buildings that Ruskin sought to record before the modern work could mutilate them, paradoxically by using the most modern technology.
Michael Hall's monograph on G.F. Bodley was published by Yale University Press in 2014
View the Book of the Year Shortlist
Apollo Award Winners 2015
Personality | Artist | Acquisition | Exhibition | Digital Innovation | Book | Museum Opening
Unlimited access from just $16 every 3 months
Subscribe to get unlimited and exclusive access to the top art stories, interviews and exhibition reviews.
Recommended for you