From the January 2021 issue of Apollo. Preview and subscribe here.
Given the ancient character of the craft, architecture school is a comparatively recent cultural phenomenon. Emerging from a soup of pupillage, guild-based apprenticeships and enthusiastic amateurship, the idea that you could train architects away from the building site only really took form in 17th-century France, when the Académie Royale d'Architecture (later the École des Beaux-Arts) offered the first properly academic training for would-be Ictinuses. Since its founding, architectural pedagogy has been constantly wracked by a simple yet galling question: should schools focus on the complex pragmatics of building, or should the studio be used as a space of cultural and artistic experiment before hard commerce takes over?
In the UK the first architecture school proper was at the University of Liverpool, but it is the Architectural Association school that is the most venerable and celebrated. It was founded in 1847 by a group of disgruntled pupils in London to promote learning and architectural culture outside of the demands of commercial practice. Militating for change at the Royal Institute of British Architects (founded in 1834), it played a large role in the formalisation of architectural education in the UK. While 18th-century amateurs such as Lord Burlington or Horace Walpole could dabble in architecture, by the mid 19th century prominent architects typically emerged from a period of (frequently fee-paying) work in an experienced office. This often renders the history of that period as a series of semi-apostolic sequences: for example, Norman Shaw trained with G.E. Street, who in turn had worked for George Gilbert Scott.
The AA today occupies a series of buildings on the west side of Bedford Square, a Georgian oasis just off the bustle of Tottenham Court Road. Within this twisting collection of semi-domestic spaces lies an odd institution, independent of British higher education. It has become, over the years, a remarkably international place, with currently around 90 per cent of its students coming from overseas. This is largely due to its extortionate fees (more than £20,000 a year), and the ambience can certainly feel something like that of a finishing school.
But the corridors of the AA are also frequented by the great and the good of the architecture world, and one of its key strengths is the close ties it maintains with its alumni, a high proportion of whom go on to dominate the profession. Figures such as Zaha Hadid and Rem Koolhaas are among graduates who have completely changed architectural culture, both drawn from a most highly celebrated generation who came up through the school from the late 1970s and matured at a time of millennial economic confidence and demand for the 'iconic' work of 'starchitects'.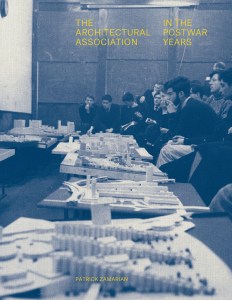 This flourishing is associated with the work of Alvin Boyarsky, director of the AA from 1971 until his death in 1990, who moved the school far away from the pragmatic side of the culture, instigating a period of intense eclecticism and individualistic extravagance. In comparison, the school that Boyarsky took over can appear to be highly staid, perhaps dreary, and it is this world that Patrick Zamarian's book The Architectural Association in the Postwar Years (Lund Humphries) wishes to bring back to life. Zamarian makes a convincing case that despite being more apparently conventional than what would later come, the AA at this point still led the discussion on the direction of architectural education, and thus set the themes and concerns of many of its practitioners.
The fundamental question of architectural training was identified by William Allen, who ran the school from 1961–65, with a C.P. Snow-like tension between art and science. Architects in the UK were involved in a massive construction campaign that was also part of a project of remaking society on social democratic principles, and old-fashioned methods ultimately derived from the Beaux Arts weren't going to cut it. Instead, a programme of scientific teaching and studio design would prepare students to be not only designers but also strategists and policy-makers. As Allen put it: 'Our concern must be not only for individual buildings but for the nation's building.'
One important example of this direct impact occurred in the 1950s, when Peter Smithson was a key tutor in the school. He and Alison Smithson, his wife, were widely known for their experimental approach to housing design, but it was Peter's student Ivor Smith who (with Jack Lynn) first put these principles into action, designing the Park Hill flats for Sheffield City Council in the late 1950s, a worldwide landmark for mass housing.
This pattern, of debates within the school rapidly becoming facts on the ground, is conveyed in rich detail by Zamarian. It is startling to encounter the student work of various people who would leave their mark so vividly elsewhere, such as Neave Brown, whose thesis project of 1955 already demonstrated the obsession with tight planning that would make him one of the most celebrated housing architects of the era; Richard Rogers, whose hotel of 1960 shows glimmers of his later obsession with components and the influence of his architect uncle Ernesto's work in Milan; or Denise Scott Brown (then Lakofski), whose housing design of 1954 shows absolutely no hint of her later role in developing architectural postmodernism.
Throughout its history, the almost total reliance on fees has meant that the AA always seems only a bad year away from disaster, while its ornate democracy tends towards chaos – the post-war era saw many a director toppled, a tendency that returned when Eva Franch i Gilabert, in post since 2018, was ousted by the council last year. But Boyarsky's long tenure set a pedagogical trend that influenced schools all over the world: a focus on ideological competition between the diverse agendas of ambitious tutors, an approach that favours the spectacular, the unique, and the seductive. In subsequent decades, all manner of design -isms have flourished at the AA, as well as innumerable theories of often excruciating verbosity. Occasional landmark buildings testify to the influence of these debates, but the days of an architecture school influencing a nation's building programme as a whole are long past.
From the January 2021 issue of Apollo. Preview and subscribe here.
Recommended for you