Beautiful paintings, grand museum settings, wealthy and well-dressed people: the glamour of the art world lends itself perfectly to that most glamourising of movie genres – the heist film. Let's not get bogged down here by reality or queasy morality – for example the fact that, because of their status as unique and often easily identifiable objects, looted artworks are notoriously difficult to trade on the black market, and often end up damaged or destroyed.
This year's Venice Film Festival is showing the premiere of The Burnt Orange Heresy (dir. Giuseppe Capotondi), an 'elegant and erotic neo-noir thriller' in which the 'art world and the underworld collide' after a rich collector (played by Mick Jagger) asks a couple visiting his estate on Lake Como to carry out the theft of a painting by a reclusive artist directly from the artist's studio.
There's no trailer or general release date yet, but you can watch the preview of another film rooted in the world of art crime: the John Crowley-directed adaptation of Donna Tartt's The Goldfinch, named after a (real) 17th-century Dutch painting by Carel Fabritius, the (fictionalised) theft and subsequent fate of which are at the heart of the book's mystery. The film premieres at Toronto Film Festival in early September and is on general release later in the month.
In the meantime, here's Apollo's pick of art-heist movies to keep you busy until Mick Jagger and a dainty Dutch warbler hit a multiplex near you:
Entrapment (1999), dir. John Amiel
Sean Connery teaches Catherine Zeta Jones how to steal an ancient mask. Little does he know she's an insurance investigator.
How to Steal a Million (1966), dir. William Wyler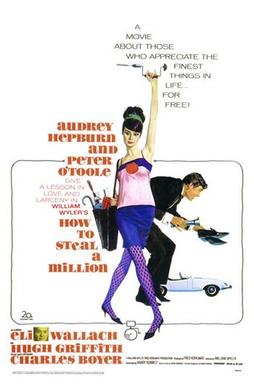 Audrey Hepburn tries to steal back a fake Cellini sculpted by her father and persuades Peter O'Toole to help. Little does she know he's an insurance investigator.
Hudson Hawk (1991), dir. Michael Lehmann
It begins with Leonardo at work in Renaissance Italy (we find out why the Mona Lisa has an enigmatic smile). Skip forward to Bruce Willis's cat burglar being released from Sing Sing only to be made to steal Leonardos to order by Richard E. Grant and Sandra Bernhard.
St Trinian's (2007), dir. Oliver Parker, Barnaby Thompson
Boarding school hijinks escalate – can Gemma Arterton and her gang pull off the theft of a Vermeer from the National Gallery?
The Maltese Falcon (1941), dir. John Huston
It's already been stolen. But who has it? (In 2013, one of the two prop statuettes from the film sold at Bonhams for $4m, making it one of the most expensive pieces of movie memorabilia in history.)
The Score (2001), dir. Frank Oz
Marlon Brando makes Robert de Niro's world-weary safecracker pull off one last heist. The target is a sceptre intercepted by Canadian customs agents, but luckily the crooks have a man on the inside in Montreal.
The Thomas Crown Affair (1999), dir. John McTiernan
Pierce Brosnan and Rene Russo play cat and mouse over the theft of a Monet from the Met. They both know she's an insurance investigator. Yes, it's a remake of the old bank-heist favourite starring Steve McQueen and, yes, it divides opinions.
Topkapi (1964), dir. Jules Dassin
Melina Mercouri hires a gang to steal a sultan's dagger in the Topkapi Museum. Long before he would play Hercule Poirot, Peter Ustinov takes a turn as small-time crook.
Trance (2013), dir. Danny Boyle
Art auctioneer James McAvoy can't remember where he's put a stolen Goya.
Recommended for you