Decking out a play-area with old bits of vehicles seems natural and apt, as parks often have an affinity with tarmac and rubber. In The Breaker's Yard plant pots are made out of tyres; likewise little tables and stools. Flowerbeds are stainless steel. There are sand pits and small trees sprouting from tractors' wheels.
The Breaker's Yard is a project set in the grounds of Sutton House, the Hackney home of a Tudor courtier which has been through various reinventions over the centuries. The outside space was once an auto breakers, and has been converted by sculptor and landscape designer Daniel Lobb, in collaboration with the children's learning initiative The House of Fairy Tales, into a playground of up-cycled art.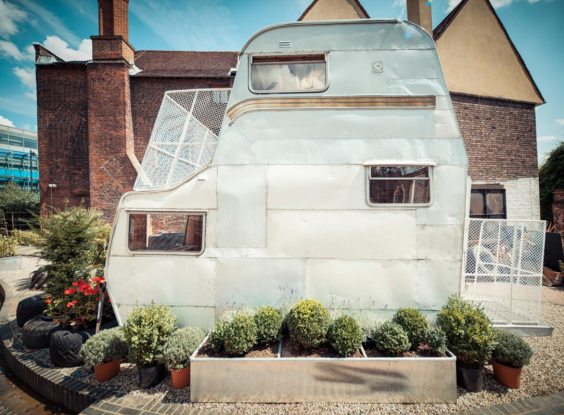 A two-storey caravan called The Grange is the centre piece. Designed by Lobb before the turn of the millennium, it has featured on Top Gear and Blue Peter, and its interior miniaturises the décor of a historic stately home, complete with Grecian bust, mirrors, chandelier, fireplace and oak-carved family crest rescued from a car boot sale. The ceiling frame is made from Victorian plasterwork found in a salvage yard. As an adult, it's scary manoeuvring your way up the beautiful toe-sized staircase to the second floor balcony. True, it is built to a child's dimensions, but this is the very thing which will appeal to the grown-ups.
I feel like a scrooge, naturally, for not being full of praise for the rest of The Breaker's Yard. Initiatives designed to inspire young minds put themselves out of critical swinging-distance by default. But had I been the young mind this was meant to inspire, I'd have some criticisms. I'd also probably have been forbidden by my parents from getting close enough to everything for inspiration to take place.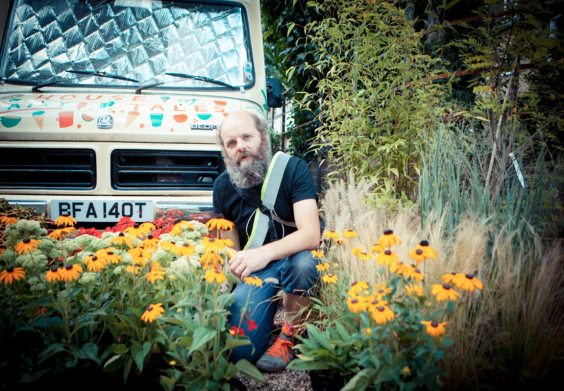 The garden itself has been designed to mimic courtly features, so there is foot-deep, foot-wide guttering running throughout. Kegs of water can be seen at each end, operated by pumps, which would occasionally be switched on by people only to wet the ground, before their friend might say: 'Don't do that – you'll use up all the water.' But in some places the guttering is covered in panels of rubber with white inscriptions of 'Surface Temporary' and 'Wobbly Please Careful.' If you're going to cover a gutter for protection, why would you cover it in a flimsy means of protection? If they didn't put rubber down in the gaps, there'd be no wobbly surface to avoid. I like this superfluity as an artistic joke, but The Breaker's Yard is pretty earnest, as it should be.
Along with the tyre sandpits other tyres stand upright, caked in mud, seemingly arranged for kids to crawl through. Sure, kids love mud and dirt. But this is residual, crusty mud; tetanus dirt. Then you've got to bring your muddy tetanus child through the National Trust museum without smearing them on the historic, listed surfaces. This is the discrepancy. It is an installation which resembles a playground for kids, but might not actually be for kids to play on. It might just be art. Which brings me on to the 'edible garden' experience.
I was expecting treats artfully disguised as growing from pots. What I found was peppers, sad and sunken in late August, and rhubarb. Rhubarb is technically edible, but I'd advise against uprooting a stalk and eating it raw. Determined not to be put off, I started indiscriminately putting leaves and petals in my mouth. They didn't taste of anything, and I became unsure whether all plant-life in the garden came under the edible definition, or whether I was eating the flowers which were solely meant to be observed. Moving on to the marjoram, I felt conspicuous as drivers in traffic just beyond the yard's chain-link fence watched me speculatively eat from plant pots. I might as well have walked down a suburban road eating spines of rosemary from people's bushes.
Of course I'm over-thinking this. I know it demands the unselfconsciousness of a child. But as a child I would have been overly conscious – confused as to which bits were and weren't meant for my enjoyment. I wouldn't have been best pleased walking around with woody bits of rosemary in my mouth for the rest of the day, either.
The Breaker's Yard is a collaboration between the artist Daniel Lobb and The House of Fairy Tales.
Sutton House is a Grade II-listed Tudor manor house in Hackney, London, owned by the National Trust.
Related Articles
Creative schools: the artists taking art education into their own hands (Maggie Gray)
Recommended for you