Apollo offers you the chance to win a superb free book
Simply answer the question in the competition and you could win one of the finest art history books.
For our last competition prize we offered The King's Pictures by Francis Haskell (Yale University Press, £30)
We asked: Which famous Flemish artist and pupil of Rubens established himself as the leading court painter in England under Charles I?
Answer: Sir Anthony van Dyck
Congratulations to Hannah Clyma, winner of this competition, drawn at random from the hundreds of correct answers we received.
This week's competition prize is Islamic and Oriental Arms and Armour: A Lifetime's Passion by Robert Hales (Robert Hales C.I. Ltd., £85)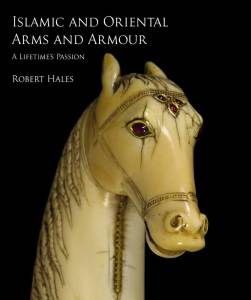 A recognised authority, Hales' publication is the first to document the range and breadth of this extraordinary field. It contains weapons from a vast area and includes a wide range of styles. Many were never used in anger but were primarily worn to show the wealth and status of the owner. The skilled master craftsman from the court workshop, with access to the most expensive and precious materials, inevitably produced some of the most exquisite examples of Islamic and Oriental art. Hales kept a photographic record of many of the weapons that passed through his hands, resulting in a rich and extensive archive. Thom Richardson, Royal Armouries' Keeper of Armour and Oriental Collections, Leeds, says: 'As a source of images of the finest Asian weapons, this book is unrivalled and will be an indispensable resource for anyone interested in the subject in the future'.
For your chance to win simply answer the following question and submit your details below before midday on 14 February 2014
Which 18th-century Indian ruler owned an automaton of a tiger mauling a European man?
To enter the competition, send your answer to bookcomp@apollomag.com, along with your full name and postal address. Please also let us know if you would prefer not to receive email newsletters and competition announcements from Apollo in the future.
This competition closes at midday on 14 February 2014
Islamic and Oriental Arms and Armour is reviewed by Lucien de Guise in the current issue of Apollo
Click here to buy the current issue
Unlimited access from just $16 every 3 months
Subscribe to get unlimited and exclusive access to the top art stories, interviews and exhibition reviews.
Recommended for you