Apollo offers you the chance to win a superb free book.
Simply answer the question below and you could win one of the finest art history books and exhibition catalogues.
For our last competition prize we offered British Surrealism Opened Up, by Dr Jeffrey Sherwin (Northern Artists Gallery Ltd, £15)
We asked: In which year was the International Surrealist Exhibition held in London?
Answer: 1936
Congratulations to Jayne Smith, winner of this competition, drawn at random from the hundreds of correct answers we received.
This week's competition prize is The Book of Miracles, by Till-Holger Borchert and Joshua P. Waterman (Taschen, £99.99)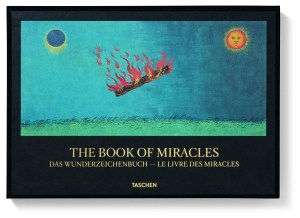 Rediscovered only a few years ago, the Book of Miracles is a revelation: an illustrated manuscript, created in Augsburg in around 1550 and made up of striking large-format illustrations of miraculous phenomena and apocalyptic visions. This facsimile edition reproduces the codex in its entirety, and is accompanied by a thorough historical introduction as well as a complete transcript of the enigmatic text.
For your chance to win simply answer the following question and submit your details below before midday on 23 May 2014
The formal free imperial city of Augsburg is in which present-day German state?
To enter the competition, send your answer to bookcomp@apollomag.com, along with your full name and postal address. Please also let us know if you would prefer not to be contacted by Apollo and specially selected third parties in the future (please see our Privacy Policy for further details).
This competition closes at midday on 23 May 2014
Click here for more information on The Book of Miracles
Recommended for you