Apollo offers you the chance to win a superb free book
Simply answer the question below and you could win one of the finest art history books
For our last competition prize we offered Anselm Kiefer, by Richard Davey, Kathleen Soriano, Christian Weikop (£48, Royal Academy of Arts)
We asked: Which poet inspired Anselm Kiefer's Margarethe (1981)?
Answer: Margarethe (1981) was inspired by Paul Celan's well-known poem Todesfuge (Death Fugue)
Congratulations to Rosy Tsai, winner of this competition, drawn at random from the hundreds of correct answers we received.
This week's competition prize is Owning the Past: Why the English Collected Antique Sculpture, 1640–1840, by Ruth Guilding (£55, Yale University Press)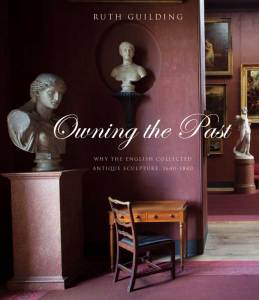 In a lively re-examination of the British collectors who bankrupted themselves to possess antique marble statues, Owning the Past chronicles a story of pride, rivalry, snobbery, and myopic obsession with posterity and possession. Analysing the motives that drove 'Marble Mania' in England from the 17th through the early 19th centuries, Ruth Guilding examines how the trend of collecting antique sculpture entrenches the ideals of connoisseurship and taste, exacerbates socio-economic inequities, and serves nationalist propaganda. Even today, for the individuals or regimes that possess them, classical statuary performs a symbol of authority or as the trophies of a 'civilised' power. From Adolf Hitler posing for the press beside an ancient copy of Myron's Discobolus, to the 2002 sale of the Newby Venus for a record price of nearly £8m to the Emir of Qatar marble mania remains unabated. With insider access to private collections, Guilding writes with verve and searing insight into this absorbing fixation.
For your chance to win simply answer the following question and submit your details here before midday on 7 November 2014.
Which English architect began to display his pictures and antiquities in a house museum in Lincoln's Inn Fields in the early 19th century?
This competition closes at midday on 7 November 2014.
Recommended for you