This week's competition prize is William Blake: The drawings for Dante's Divine Comedy, by Sebastian Schütze & Maria Antonietta Terzoli (Taschen, £99.99) Click here for a chance to win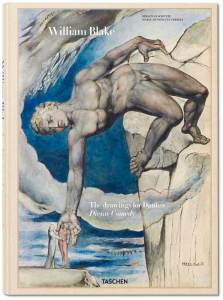 Celebrated around the world as a literary monument, The Divine Comedy, completed in 1321 and written by Dante Alighieri is widely considered the greatest work ever composed in the Italian language. In the last few years of his life, Romantic poet and artist William Blake produced 102 illustrations for Dante's masterwork, from pencil sketches to finished watercolours. Like Dante's sweeping poem, Blake's drawings range from scenes of infernal suffering to celestial light, from horrifying human disfigurement to the perfection of physical form. While faithful to the text, Blake also brought his own perspective to some of Dante's central themes. This book brings these works together alongside key excerpts from Dante's masterpiece. Two introductory essays consider Dante and Blake, as well as other major artists who have been inspired by The Divine Comedy, including Sandro Botticelli, Michelangelo, Eugène Delacroix, Gustave Doré and Auguste Rodin.
For your chance to win simply answer the following question and submit your details here before midday on 20 March 2015.
Which UK museum recently hosted the exhibition 'William Blake: Apprentice and Master'?
This competition closes at midday on 20 March 2015.
For our last competition prize we offered Rubens and His Legacy: Van Dyck to Cézanne (Royal Academy of Art, £48)
We asked: In which Flemish city did Rubens set up his studio in in 1608?
Answer: Antwerp
Congratulations to the winner, Javier Vicente Arenas
Black Friday sale: 6 months for the price of 3
Subscribe using our Black Friday sale to get six months of the most incisive art writing available for the price of three.
Recommended for you