This week's competition prize is My dear BB: The Letters of Bernard Berenson and Kenneth Clark 1925–1959, edited and annotated by Robert Cumming (Yale University Press, £25). Click here for a chance to win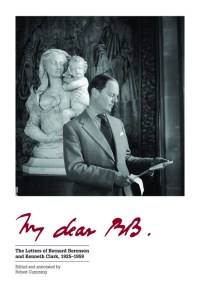 In 1925, the 22 year old Kenneth Clark and the legendary art critic and historian Bernard Berenson met in Italy. From that moment, they began a correspondence that lasted until Berenson's death in 1959. Published here for the first time these illuminating letters are brought to life with biographical detail by Robert Cumming, providing context for the events and personalities referred to and bringing a new and unique insight into their lives and motivations. Both talented writers, Clark and Berenson emerge from these letters as never before: humorous, gossipy, informative, spontaneous. Their frequent letters exchange news and views about art and politics, friends and family life, collectors, connoisseurship, discoveries, travel as well as books read and written. From their first encounter to Clark's meteoric rise to fame, we see here the full impact of this meeting of minds.
For your chance to win simply answer the following question and submit your details here before midday on 8 May 2015.
What was the name of Kenneth Clark's celebrated BBC series of 1969 on the history of western art?
This competition closes at midday on Friday 8 May 2015.
For our last competition prize we offered On Being An Artist, by Michael Craig-Martin (Art/Books, £22.50).
We asked: At which London art school did Michael Craig-Martin teach during the '70s and '80s?
Answer: Goldsmiths
Congratulations to the winner, Sacha Waldron.
Related Articles
Review: Kenneth Clark at Tate Britain
Civilisation 2.0: who could replace Kenneth Clark?
Recommended for you