This week's competition prize is Andrea del Sarto: The Renaissance Workshop in Action (Getty Publications, £40), by Julian Brooks with Denise Allen and Xavier F. Salomon. Click here for your chance to win.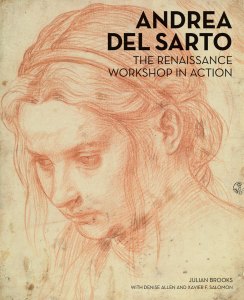 The great Renaissance artist Andrea del Sarto (1486–1530) rivals Leonardo da Vinci as one of history's most accomplished draftsmen. Yet despite his enviable talent, del Sarto's legacy has been overshadowed by the fame of his peers. This book, published to accompany the upcoming exhibition at The J. Paul Getty Museum, offers a powerful corrective to the comparatively scant scholarship on him and is sure to return del Sarto to the pantheon of master Renaissance artists. The lavishly illustrated book reveals del Sarto's dazzling inventiveness and creative process, presenting fifty core drawings on paper together with a handful of paintings. The first publication to look to del Sarto's working practice through a close examination of his art from across all the world's major collections, this book analyses new studies of his panel underdrawings as well.
For your chance to win simply answer the following question and submit your details here before midday on 19 June 2015.
Which 19th-century British poet wrote a monologue from the perspective of Andrea del Sarto?
This competition closes at midday on Friday 19 June 2015.
For our last competition prize we offered Frank Auerbach: Speaking and Painting, by Catherine Lampert (Thames & Hudson, £19.95).
Which British artist's collection of Auerbach paintings and drawings was distributed among UK museums by the Arts Council earlier this year?
Answer: Lucian Freud
Congratulations to the winner, Tim Thornton.
Recommended for you