Apollo offers you the chance to win a superb free book.
Simply answer the question in the competition and you could win one of the finest art history books and exhibition catalogues.
For our last competition prize we offered The Young Dürer: Drawing the Figure (Paul Holberton Publishing, £30)
We asked: Which famous contemporary of Dürer praised his ability to express 'the whole mind of man as it reflects itself in the behaviour of the body'?
Answer: Erasmus
Congratulations to Maurice Hillis, winner of this competition, drawn at random from the hundreds of correct answers we received.
This week's competition prize is Sex on Show: Seeing the Erotic in Greece and Rome by Caroline Vout (The British Museum Press, £25)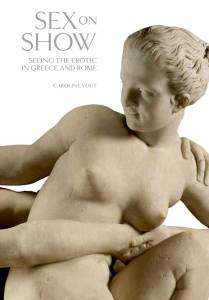 Drawing on examples of classical erotic art, some of them well known and others rarely discussed, this book explores why the Greeks and Romans surrounded themselves with so many sexually explicit images. It examines how these images were used and what they reveal about how the ancients saw themselves and their world. Covering material from the sixth century BC to the fourth century AD, as well as the reception of this material in the Renaissance and later, Sex on Show uses detailed visual analysis to ask not what but why. The centrality of the male nude in Greek and Roman art, the premium put on male-male desire in Greek culture and the anthropomorphism and promiscuity of the gods, already demands that we look differently. That we look at all makes us self-conscious. This lively and thought-provoking book does not simply address theories of sexual practice or social history, it is a visual history – concerning what it meant and still means to have sex stare us in the face.
For your chance to win simply answer the following question and submit your details below before midday on 15 November 2013.
Which British Museum exhibition in 2013 featured an explicit classical sculpture called 'Pan and Goat'?
To enter the competition, send your answer to bookcomp@apollomag.com, along with your full name and postal address. Please also let us know if you would prefer not to receive email newsletters and competition announcements from Apollo in the future.
This competition closes at midday on 15 November 2013.
Recommended for you