This week's competition prize is Gothic for the Steam Age: An Illustrated Biography of George Gilbert Scott, by Gavin Stamp (Aurum Press, £30). Click here for your chance to win.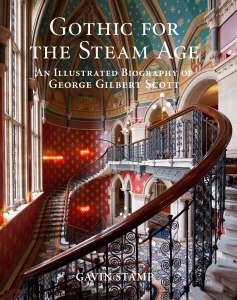 This reassessment of George Gilbert Scott, known – and widely criticised – for his Gothic Revival architecture, seeks to restore his reputation. Stamp argues for Scott's originality, as well as his Victorian enthusiasm for progress.
For your chance to win simply answer the following question and submit your details here before midday on 4 December 2015.
In which year was Scott's Midland Grand Hotel, London opened?
This competition closes at midday on 4 December 2015.
For our last competition prize we offered The Fabric of India, Rosemary Crill, ed. (V&A Publishing, £35).
Which natural blue-violet dye is commonly found in India?
Answer: Indigo
Congratulations to the winner, Cos Ahmet.
Black Friday sale: 6 months for the price of 3
Subscribe using our Black Friday sale to get six months of the most incisive art writing available for the price of three.
Recommended for you