Apollo offers you the chance to win a superb free book.
Simply answer the question in the competition and you could win one of the finest art history books.
For our last competition prize we offered Sex on Show: Seeing the Erotic in Greece and Rome by Caroline Vout (The British Museum Press, £25)
We asked: Earlier this year the British Museum featured an explicit classical sculpture called 'Pan and Goat' in one of its major exhibitions. Which one?
Answer: Life and death in Pompeii and Herculaneum
Congratulations to Victor Perry, winner of this competition, drawn at random from the hundreds of correct answers we received.
This week's competition prize is Anti-Ugly: Excursions in English Architecture and Design by Gavin Stamp (Aurum Press, £16.99)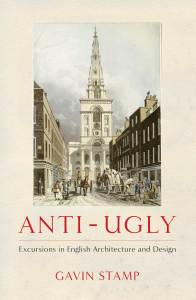 Since 2004 Gavin Stamp, one of Britain's most eminent and readable architectural historians, has written a monthly column for Apollo. These pieces display a wonderful range and variety and are unified by Stamp's wider quest: to explore, define and champion the quintessential Englishness of English architecture and design. When fine examples are preserved and restored, he celebrates; when they fall victim to philistine neglect – or, worse, demolition – he mourns. And when the elegant is displaced by the merely modish, he deplores. In Anti-Ugly, Stamp has selected the very best of these 'excursions' around England. The result is a compulsively readable collection that builds into an eloquent, learned, trenchant and deeply felt portrait of our national design heritage.
For your chance to win simply answer the following question and submit your details below before midday on 29 November 2013.
Which English architect designed the London church featured on the cover jacket of Gavin Stamp's Anti-Ugly?
To enter the competition, send your answer to bookcomp@apollomag.com, along with your full name and postal address. Please also let us know if you would prefer not to receive email newsletters and competition announcements from Apollo in the future.
This competition closes at midday on 29 November 2013.
Recommended for you