This week's competition prize is Histories of Ornament: From Global
to Local by Gülru Necipoğlu and Alina Payne (eds.), published by Princeton University Press (£44.95). Click here for your chance to win.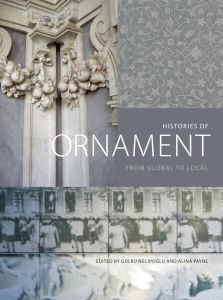 The first major global history of ornament analyses the role of decoration in art and architecture, from the Middle Ages to the present day. Organised by theme, the book emphasises the ability of ornamental styles to travel across cultures.
For your chance to win simply answer the following question and submit your details here before midday on 20 May.
Which influential architect wrote the famous 1908 essay 'Ornament and Crime'?
This competition closes at midday on 20 May.
For our last competition prize we offered The Fitzwilliam Museum: A History by Lucilla Burn, published by Philip Wilson Publishers (£25).
Which of the Fitzwilliam Museum's past directors is now more famous for his ghost stories?
Answer: M. R. James
Congratulations to the winner, Thomas Long.
Recommended for you