This week's competition prize is War Map: Pictorial Conflict Maps 1900–1950 by Philip Curtis & Jakob Søndergård Pedersen, published by Sifton, Praed & Co. Publishing (£35). Click here for your chance to win.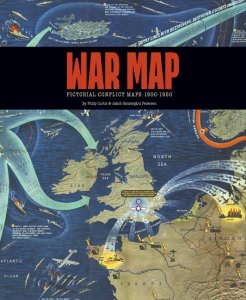 This book accompanies a groundbreaking new project by The Map House, presenting 50 years of pictorial conflict maps in an exhibition. From 1900–1950, the international political landscape was irreversibly changed by regional and global conflicts; War Map explores in detail the extraordinary campaign and propaganda maps produced during this period. The book also includes maps documenting key diplomatic moments including the formation of the European Trade Charter and the United Nations, which continue to have relevance in the contemporary political landscape. The book offers a unique perspective of conflict from all sides, unpicking the details and symbolism of these highly intricate maps which originate from winners and losers, allies and enemies alike.
For your chance to win simply answer the following question and submit your details here before midday on 4 November.
The Map House appears as a setting in the short story 'Monte Verità' (1952). Who was the author?
This competition closes at midday on 4 November.
For our last competition prize we offered The Paper Zoo: 500 years of Animals in Art by Charlotte Sleigh, published by British Library Publishing (£25)
Which Swiss naturalist's 5-volume Historiae Animalium, an illustrated compendium of animals, was published between 1551 and 1587?
Answer: Conrad Gessner
Congratulations to the winner, Simon Harrington.
Recommended for you