From the September 2023 issue of Apollo. Preview and subscribe here.
Charles Le Brun believed the key to the human soul was in the eyebrows. The director of the French Royal Academy of Painting and Sculpture delivered his lecture codifying the expression of emotion in 1668. It was published shortly afterwards with diagrammatic illustrations showing such passions as 'Admiration and Astonishment', 'Laughter' and 'Acute Sadness'. By the mid 18th century, William Hogarth was characterising these illustrations and their expressive eyebrows as the artist's 'common drawing book', while his friend the actor David Garrick regularly ran through imitations of the faces at dinner parties. In 1745, Hogarth painted Garrick as Richard III on the eve of the Battle of Bosworth Field. This was the Shakespearean role with which he had made his name, in 1743, when he was enthusiastically (albeit inaccurately) billed as 'A GENTLEMAN (who never appeared on any Stage)'. In the painting, both actor and artist follow Le Brun's instructions on the representation of 'Horror' – 'the Hands shall be wide open, and the Fingers spread […] the Legs in an Action of Running'.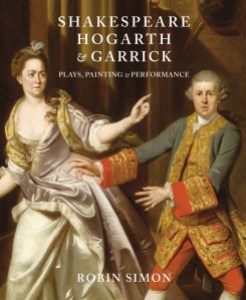 Le Brun's significance for two of the most important British artists of the 18th century demonstrates both the extent of national cultural dependence on France and also the connections between painting and theatrical performance in the period that forms the subject of Robin Simon's book. Hogarth, who declared that 'my Picture was my stage, and men and women my actors', grew up among the informal short theatricals and fairs of the London parish of St Bartholomew's. Garrick, too, 'moved […] freely between the related worlds of stage and canvas', and both men made strategic use of Britain's most prominent dramatist. Along with Swift and Pope, Shakespeare is one of the three names on which Hogarth's portrait rests in his Self-Portrait with a Pug, also painted in 1745. Garrick, meanwhile, established himself as 'Shakespeare's high priest', although, as Simon points out, his priestly duties included editorial work and he only ever performed his breakthrough role in the version altered by Colley Cibber.
Simon contends that the triumvirate of Shakespeare, Hogarth and Garrick was instrumental in the conception and development of history painting, the genre for whose betterment Le Brun had first studied the motion of the eyebrows. At its founding in 1768, the Royal Academy of Arts in London imported much of its theory from France, including the generic supremacy of history painting above landscape, still life and the perennial British obsession, portraiture. Since French theorists always discussed history painting with reference to the stage, Simon suggests that Britain's complex relationship with this genre can be partly understood through its theatrical history. Many of Garrick's emendations to Shakespeare responded to a persistent anxiety about the playwright's disregard for the classical unities of time, place and action as laid down by Aristotle. What the critic and dramatist John Dennis called Shakespeare's 'perpetual Rambles, and […] frequent breaking the continuity' contrasted with the icy brilliance of France's most celebrated playwright, Racine. Moreover, while the French tastefully transacted all violence offstage, at some point in the 17th century the British had been driven to the innovation of a green baize rug laid on the stage to protect the actors' costumes during protracted death throes. This 'tragic carpet' makes a rare appearance in Hogarth's exceptional conversation piece The Indian Emperor; or, The Conquest of Mexico (1732–35), where it can be seen under a group of aristocratic children midway through a performance of Dryden's play of that title.
By the end of the century, Simon argues, Britain had transitioned away from aspirant Francophile classicism and embraced the self-confident European Romanticism espoused by Stendhal, who declared himself 'a passionate Romantic […] for Shakespeare, and against Racine'. David Garrick as Richard III synthesised a new type of national history painting, combining Shakespeare with portraiture and paving the way for the larger-scale, though less successful, 'Shakespeare Gallery' initiated by John Boydell in 1786. At the same time, Simon highlights Hogarth's careful adherence to the French Academy's rules, including the need for history painting to follow the dramatic unities, representing just a single moment from a specific text. Simon uses this under-acknowledged point to great interpretive effect, suggesting, for example, that when working for Boydell, Benjamin West changed his mind about which moment of Ophelia's mad scene to depict. Though in the preliminary oil sketch Ophelia holds rue, the herb in the finished painting looks like rosemary. 'Academic training,' Simon asserts, 'insisted upon students learning to get such details absolutely right.'
As this example suggests, Simon's forthright title is a little misleading. This is not really a book 'about' Shakespeare, Hogarth or Garrick (the painting on the front cover is by Johan Zoffany). Instead it is an erudite and wide-ranging discussion of the general relationship between British painting and theatrical culture from about 1745 onwards, which returns to Shakespeare, Hogarth and Garrick as part of discussions of Le Brun, Boydell, Paul Delaroche and Laurence Olivier's 1955 film of Richard III, via an aside on the Marx Brothers. As such, it is a valuable and enjoyable contribution to theatrical and art history, offering forensic interpretations of actor portraits and theatrical compositions by Zoffany, Joshua Reynolds, Francis Bourgeois and Thomas Lawrence (though Gainsborough is surprisingly absent). It also reproduces several images for the first time: the antiquary John Carter's extraordinary set designs for John Philip Kemble's production of Coriolanus in 1789 are a highlight. Though they are placed firmly within theatrical and artistic history, Simon's three titular subjects nonetheless emerge enriched, providing a wholly convincing justification for Simon's suggestion that theatre, as the 'single greatest shared cultural experience' of 18th-century Britain, is essential to understanding its art.
Shakespeare, Hogarth and Garrick: Plays, Poems and Performance by Robert Simon is published by Paul Holberton Publishing on behalf of Hogarth Arts.
From the September 2023 issue of Apollo. Preview and subscribe here.
Recommended for you