Introducing Rakewell, Apollo's wandering eye on the art world. Look out for regular posts taking a rakish perspective on art and museum stories.
The Brontë Parsonage Museum in Haworth, West Yorkshire, has long been one of the favourite pilgrimage sites of English literature buffs, up there with Dove Cottage, Jane Austen's House and, erm, a luggage trolley wedged into a wall at King's Cross station. In less turbulent years than this one, some 70,000 people visit the parsonage, which in the 1840s was a formidable fiction factory; it was here that Jane Eyre, Wuthering Heights and The Tenant of Wildfell Hall were written.
So it is heartening to see that the museum's crowdfunding campaign, which is aiming to raise emergency funds to make up for some of the revenue lost due to the Covid-19 pandemic, has at the time of writing achieved more than £70,000 of the £100,000 that the organisation is looking to raise to ensure its survival into 2021. That's in no small part thanks to a £20,000 donation from the estate of T.S. Eliot, which has long benefited from the royalties it receives from the musical Cats.
Rakewell is not, alas, party to Eliot's opinions on the Brontës' novels. When it came to Victorian fiction, the poet was certainly a fan of Wilkie Collins's The Moonstone ('the first and greatest of English detective novels') and Dickens's Our Mutual Friend ('He do the Police in different voices', a line from the novel, was Eliot's working title for The Waste Land). All the same, speaking to the BBC a spokesperson for the Brontë Society pointed out that the 'Bradford millionaire' who appears in The Waste Land may have been Sir James Roberts, a Yorkshire philanthropist who would give Haworth Parsonage to the Brontë Society in 1928.
What the Brontës would have made of Cats is anyone's guess. Cats they were certainly fans of, though, keeping two at the parsonage – as well as dogs such as Grasper and Flossy, whose collars survive at the museum. As Ellen Nussey wrote in her Reminiscences of Charlotte Brontë: 'Black "Tom", the tabby, was everybody's favourite. It received such gentle treatment it seemed to have lost its cat's nature, and subsided into luxurious amiability and contentment.'
Another cat, Tiger, was painted in watercolour by Emily Brontë in 1845, alongside Keeper, her bull mastiff and Flossy, Anne Brontë's spaniel.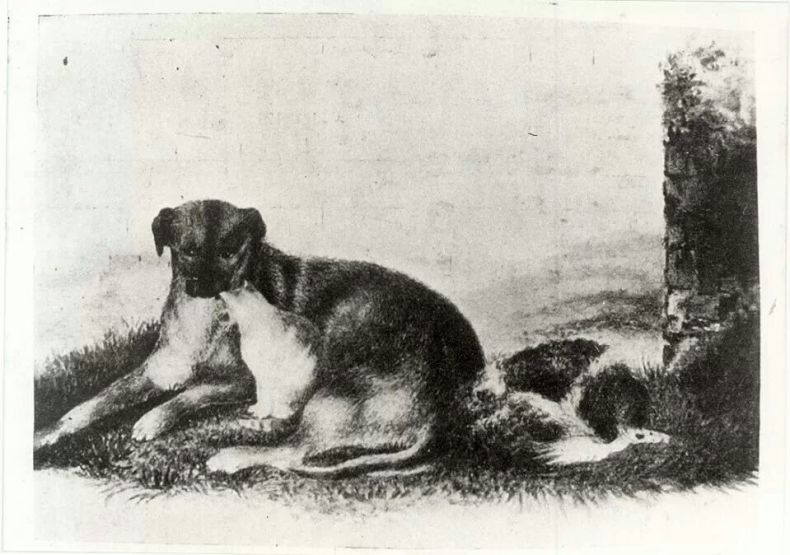 And Branwell Brontë, brother to Charlotte, Emily and Anne sketched this cat in 1828 when he was 11 years old:
Perhaps the Brontë siblings would have jumped at the chance of West End tickets, after all – and hummed 'Old Deuteronomy' and 'Memory' all the way back to Haworth.
Got a story for Rakewell? Get in touch at rakewell@apollomag.com or via @Rakewelltweets.
Unlimited access from just $16 every 3 months
Subscribe to get unlimited and exclusive access to the top art stories, interviews and exhibition reviews.
Recommended for you