This review of The Brutish Museums: The Benin Bronzes, Colonial Violence and Cultural Restitution by Dan Hicks was published in the June 2021 issue of Apollo. Preview and subscribe here.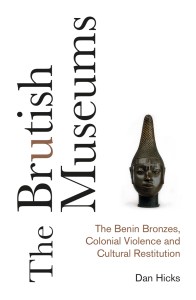 'What does it mean,' asks Dan Hicks at the outset of The Brutish Museums, 'that, in scores of museums across the western world, a specially written museum interpretation board tells the visitor the story of the Benin Punitive Expedition?' One might expect Hicks, an archaeologist and a curator at Oxford's Pitt Rivers Museum, to see this as a positive development. The Pitt Rivers holds one of the most significant collections of objects looted from the West African kingdom of Benin at the end of the 19th century, a particularly shameful episode in the history of British imperialism – and the move to acknowledge this history in recent years sits within a wider process by which many anthropological museums in Europe and North America are confronting their colonial origins.
For Hicks, however, this means little unless museums are willing to go further. Curators shouldn't just acknowledge the provenance of individual objects; they should use their positions to reveal the full, violent histories behind them. Museums should become 'anti-racist' spaces, which seek to draw links between historical oppression and contemporary, ongoing injustice. Crucially, where asked, they should be far more willing to give objects back: a pressing issue in the case of items from Benin, whose return Nigerians have been requesting for decades, and which in some cases seem to be finally making their way back. (Germany recently announced plans to return some of the items in its collections to Nigeria.)
As calls for the decolonisation of museum collections have become more prominent – whatever way 'decolonisation' might be defined – critics have sought to characterise it as an anti-intellectual project that risks undermining the important social role such institutions play. The V&A's director Tristram Hunt, for instance, recently suggested that museums such as his should try to chart a middle path between 'imperial nostalgia' on the one hand and 'identity politics' on the other, condemning 'leftwing activists determined to dismantle public collections as part of a political reckoning with patriarchy, racial inequity and social injustice' – an implicit jab at Hicks.
Yet this would be a mischaracterisation of Hicks's argument in The Brutish Museums, which is a call for more knowledge, not less. One of the key points he makes is just how little curators know about the objects in their collections: museum stores are often full to bursting – a fact that rather undermines scaremongering about the potential emptying of collections – with poor record-keeping about the origins and nature of the objects, and scant resources to carry out the research required to fill in the gaps. Hicks suggests a curatorial approach he terms 'necrology', the process of 'understanding what was taken, and from whom, and facilitating its return where this is demanded'.
The point of doing so isn't only to put right past wrongs, but to bring the visiting public to a better understanding of history. Responding to the Swedish author Sven Lindqvist's exhortation to 'dig where you stand' – Lindqvist was a prolific writer and traveller, whose books unearthed the buried histories of European colonial violence – Hicks takes his own museum as a case study, seeking to 'join the dots' between the racist ideology that underpinned imperial expansion and the way that loot was taken and displayed back home.
Hicks attacks the comforting myth that objects were looted from Benin – up to 10,000 items by his reckoning were taken when the kingdom was sacked by 1,400 British troops in 1897, notably including more than a thousand sculptures and plaques – in order to preserve them for the good of mankind. Rather, by tracing the biographies of individual soldiers who took part in the expedition, he shows the haphazard way in which items were carried off and sold with many making their way into public collections only by accident. Those that were displayed, he writes, were used to portray Black people as racially inferior, an ideological project that went hand in hand with the violent conquest of Africa – thousands of inhabitants were killed during the Benin expedition, mown down by machine-gun fire and their villages burned – and the pillaging of its natural resources. Cultures like that of Benin were 'stripped of their technologies' and 'had their living landscapes turned into ruins – and had these moments of violence extended across time, memorialised, through the technology of the anthropological museum.'
Yet although museums may have played this role in the past, Hicks is convinced they have a valuable purpose today, 'as long as we are happy to invert, reverse, flip, repurpose and dismantle most of it'. Hicks is suspicious of the claims by large institutions such as the British Museum that they are now 'universal', a neutral repository for world cultures, since they remain exclusively located in the West, and because their extensive use of corporate sponsorship often serves to whitewash the reputations of companies – notably fossil-fuel producers – whose activities are causing immense damage to the planet. 'We must not allow "world culture" museums to pretend that this violence is in the past – it is here in front of us in debts that need to be paid for things that were taken,' he writes.
Hicks is an informed guide to this territory, with a keen sense of the historical, political and ethical arguments that underpin the subject. For the most part, this erudition is an asset, although it can occasionally be frustrating. There were one or two points where I wished Hicks had foregone a literary flourish or an invocation of a postcolonial theorist in favour of spelling out his own argument more directly. A dismissal of 'the ideology of universality as a peculiarly western concern', for instance, caused me to raise an eyebrow: is the problem that the West's interpretation of universal values is incomplete and insincere, or that the idea of mutual understanding between human cultures is itself a sham? Where, then, does that leave the museums readying themselves for the return of stolen items?
Yet the argument remains optimistic, and inspiring. 'This is the kind of book where the reader has to write the conclusion by taking action,' Hicks writes, although he goes on to make a series of practical recommendations, such as the need for museums to publish and share data on provenance, so they can help one another better understand how looted objects moved around the world. He also suggests clear, formalised processes for restitution of colonial-era items, like those that already exist for art seized by the Nazis during the 20th century. 'Anthropology museums can be sites of conscience, for the present as well as the past,' he writes, 'not frozen end-points but ongoing processes. But without acts of return this means nothing.'
The Brutish Museums: The Benin Bronzes, Colonial Violence and Cultural Restitution by Dan Hicks is published by Pluto Press.
From the June 2021 issue of Apollo. Preview and subscribe here.
Recommended for you