As data increasingly migrates to the cloud, so art scholarship goes digital. The Paintings of Paul Cézanne: an online catalogue raisonné was launched last month at the Metropolitan Museum – and everywhere with internet access.
The catalogue is a collaboration between Walter Feilchenfeldt, Jayne Warman – who both worked on John Rewald's 1996 catalogue raisonné of Cézanne – and David Nash, ex-Sotheby's, now co-director of Mitchell-Innes and Nash.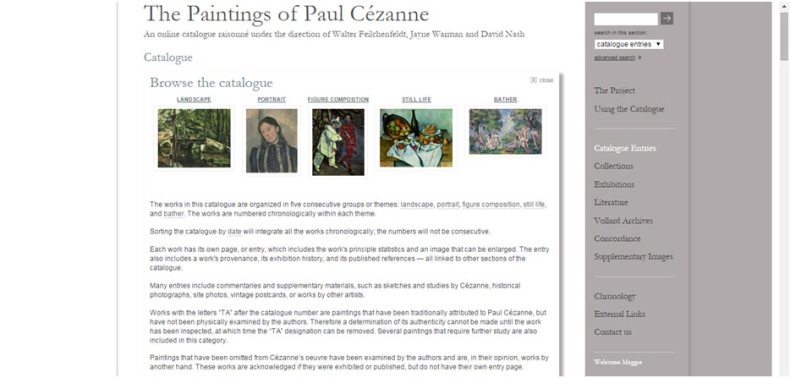 The original idea was to create an updated catalogue with colour illustrations, but the project grew into an ambitious online resource. 'I took some convincing!' said Nash. 'I had hoped to have my name on the spine of a book…'
The site provides a wealth of information for scholars and amateurs alike, offering more data and browsing possibilities than a printed edition ever could. Can't make it to New York to see the Met's current exhibition, 'Madame Cézanne'? Ever wondered where all of the Montagne Saint Victoire paintings are located? Or which paintings were included in the 1995 retrospective? You can create your username in seconds and have all the images and answers here.
The software and digital cataloguing tools were designed by panOpticon, who specialise in managing online cultural content. The paintings are divided into five sections: landscape, portrait, figure composition, still life and bather. They are numbered by group but can also be viewed chronologically, or in concordance with previous catalogue numbers (from Rewald's 1996 edition and Venturi's 1936 edition). Images can be zoomed in on, viewed as a group in relative size, by exhibition, or even grouped by keywords as specific as 'ginger pot' and 'striped dress'. As overheard at the launch of the catalogue: 'It makes it too easy'.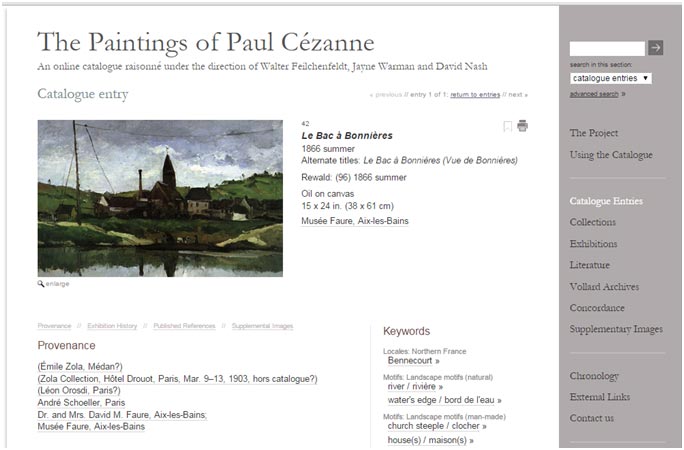 The site includes a list of literature on Cézanne, with links to original sources in some cases (for example, exhibition reviews published on Gallica, the Bibliothèque nationale de France's digital library). The catalogue can also be searched by collection, with filters for public/private, country and currently owned/historical provenance. A list of early collectors and artist collectors can also be perused, revealing – as an example – the 12 paintings that were once owned by Cézanne's childhood friend Émile Zola. The catalogue entry for one of these paintings, Le Bac à Bonnières (now at the Musée Faure, Aix-les-Bains) also includes a vintage postcard of the same view as a comparison.
And of course, being online, the catalogue raisonné is now 'supple' – a work in progress. Changes can be made as new research becomes available and supplementary material can be added. The team behind the catalogue is already working on adding Cézanne's drawings and watercolours to make this a comprehensive catalogue of his oeuvre.
The Paintings of Paul Cézanne: an online catalogue raisonné
Recommended for you