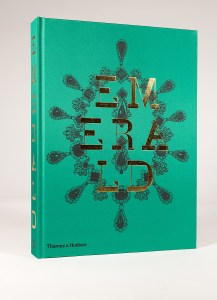 To present the visual history of an artist, movement or even medium is mission enough. Attempting such a project for a natural material, however, did not seem too big an undertaking for the four authors of Emerald, published by Thames & Hudson, who accomplish it with gallant devotion to the stone. Each of the quartet (Jonathan Self, Joanna Hardy, Franca Sozzani and Hettie Judah) approaches from a different background, from the aesthetic to the historical, to compile a tome that relates the physicality of emerald, its beguiling mythological roots, and its relationships with those who wear, mine, and admire it.
The stories of the famous figures who have worn emeralds – including Catherine the Great, the Maharajah of Nawanagar and the Duchess of Windsor – are biographical of the jewels themselves. In her introduction, Hettie Judah signposts three types of 20th-century woman who wore important gemstones: royalty, the wealthy, and celebrities.
Jewellery historian Joanna Hardy delves into examples from each category to chart centuries of an almost sociological history, arguing that custodianship lends jewellery life. With some new insights into their histories, Hardy's chapter presents a chronological compendium of key emerald pieces from ages past, illustrated in some cases larger than life.
Almost two thirds of the hardback are devoted to this relatively conventional storytelling, beginning with the Byzantine period, and working by way of the Cheapside Hoard (featuring a particularly spectacular watch c. 1600, set in a single hexagonal Colombian emerald crystal with a hinged lid), Art Nouveau, and the houses of Cartier and Van Cleef & Arpels, to contemporary creations by Shaun Leane and Cindy Chao. Perhaps necessarily, the pages awarded to post-1900 pieces are greater than those to jewels made before, although the homage paid to Elizabeth Taylor is indeed indisputable.
Judah's brief introduction and a sweeping preface by Vogue Italia editor Franca Sozzani leaves neither at liberty to fully explore the subject, reliant instead on choice turns of phrase – 'cruelly indifferent witnesses to the passage of time and power' – while a stylistically incongruous fold-out map of gem-quality emerald trade routes and mining areas is nonetheless entertaining.
Jonathan Self's chapters are an unusual and fascinatingly original piece of documentary. Crediting some of the first musings about the stone in Pliny's Natural History, Self travelled to report on the emerald in Egypt's Eastern Desert at Cleopatra's mines, the High Andes and Jaipur, and recounts something of a personal ode to the gemstone and its 21st-century role. His descriptions of his interactions with those who have a vested interested (princess, broker, jeweller) relate a compelling, anecdotal picture of the industry's workings.
Aching to spring off the page and become an hour-long television programme (certainly 9pm BBC4 fare) is an hour-by-hour report of a working day in the Zambian emerald mine of Kagem, during which Self encounters a Rothko-like reaction zone, canteen food, and a local farming co-operative. For a few pages opulence and retail seem far removed, in a fresh acknowledgement of material trade.
Emerald: Twenty-one Centuries of Jewelled Opulence and Power, Jonathan Self, Joanna Hardy, Franca Sozzani & Hettie Judah (Thames & Hudson)
Unlimited access from just $16 every 3 months
Subscribe to get unlimited and exclusive access to the top art stories, interviews and exhibition reviews.
Recommended for you