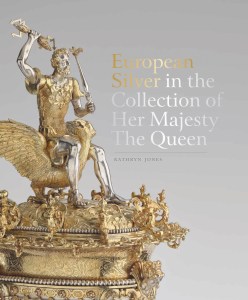 Kathryn Jones's catalogue captures nine years of research and builds on the 1911 publication by her namesake E.A. Jones. Over 300 entries illustrate royal commissions, gifts, and purchases made between 1590 and 1900, highlighting a small proportion of the more than 8,000 precious metallic objects preserved in the British Royal Collection.
The introduction describes exceptional pieces that have not survived, such as a New Year's gift designed by Hans Holbein the Younger for Henry VIII, or Charles I's basin chased with the Birth of Venus after the Rubens design in London's National Gallery.
One hundred and fifty years later, Frederick, Duke of York's splendid dinner service ordered through a Swiss agent from the Paris goldsmith Henri Auguste in 1788 seems to have set a new trend for foreign commissions. At the 1851 Great Exhibition, European silver was readily available; Victoria and Albert favoured F.D. Froment-Meurice, and the French sculptor P.-E. Jeannest modelled the silver figure of Lady Godiva that Victoria gave Albert in 1857.
Of the more than 100 pieces of German manufacture, 30, including baroque silver-mounted amber and ivory tankards, were made in Augsburg, a leading centre of silver production. The so-called Exeter Salt (c. 1630) is a spectacular centrepiece mounted with precious stones that was once thought to represent the White Tower of London; its turrets lift off to reveal wells for salt. Guarded by roaring dragons which emerge from caves beneath the castle foundations, this was probably acquired by Richard Bradshaw in Hamburg, with two elaborate tankards chased with scenes of Venus and Adonis and a Bacchic procession. Bradshaw was acting as Oliver Cromwell's ambassador to Tsar Alexei Mikhailovich but never made it to Moscow and sold these intended diplomatic gifts on his return to London. They were later presented to Charles II on his Coronation. From Berlin comes the spectacular Glaubensschild (Shield of Faith), presented by Frederick William IV of Prussia as a christening gift for his godson Prince Albert Edward (the future Edward VII), who was baptised in St George's Chapel, Windsor in January 1842. The event inspired a commission 'worthy of the present state of German art', which was delivered five years later and weighs just over 25kg. The head of Christ in the centre of a gilt cross is flanked by those of the four Evangelists with scenes relating to the sacraments of baptism and communion within a band set with onyx cameos of the 12 apostles. The outer border illustrates scenes from the Life of Christ. The shield was intended to protect the infant prince.
As Edward VII, that prince amassed the largest quantity of continental plate. His admiration for Napoleon resulted in a dedicated room at Marlborough House and inspired a collection of memorabilia including the Emperor's teapot and tea caddy supplied by Biennais. Many gifts celebrate Edward and Alexandra's Silver Wedding; during summer holidays in Denmark, Edward collected Scandinavian tankards; early 18th-century Danish examples compare with those made in Stockholm in the mid 18th and 19th centuries – their highly burnished sides reflect their chased sculptural feet, thumbpieces and lids. A Danish spoon, a Christmas gift in 1889, was listed in Garrards' 1880s inventory as for 'Pâté de Foie Gras'. A model of a shoe of woven birch bark from St Petersburg retailer Nicholls & Plinke may have been a souvenir of Edward's visit to attend the 1865 wedding of his sister-in-law Princess Dagmar of Denmark to the future Alexander III of Russia.
Queen Mary, wife of George V, demonstrated her fascination with the Stuart dynasty by acquiring the splendid caddinet with rectangular tray, mounted spice box, and cutlery in its original fitted case. It was supplied by Luigi Valadier in Rome in around 1780 for Cardinal Henry Stuart, and Queen Mary purchased it from the sale of the 11th Duke of Hamilton at Christie's in 1919. It was displayed in the Stuart Room at Windsor Castle with other relics. Another item with a rich provenance is a mother-of-pearl Indian (from Gujarat) casket mounted in Torgau, Germany, in around 1600, and presented by the shipbuilders Messrs John Brown and Company when Queen Mary launched the Queen Elizabeth at Clydebank in September 1938. Obtained from London dealers S.J. Phillips earlier that year, it was originally purchased by Christian II, Elector of Saxony at the Leipzig Easter fair in 1602 and preserved in the Dresden Grünes Gewölbe; the casket was among the items awarded to and subsequently sold by the Wettin family in 1924.
Both Queen Elizabeth, the Queen Mother and Her Majesty the Queen have added to the collections of European silver. An Amsterdam teapot of 1776, engraved with pastoral scenes, was bought by the Queen Mother in 1949; Her Majesty the Queen acquired a pair of neoclassical wine coolers by Robert-Joseph Auguste in Paris (and originally supplied to George III) at Sotheby's Monte Carlo in 1979.
Kathryn Jones underlines new discoveries and surprises. The maker of the early 17th-century Nuremberg standing cup and cover acquired by George IV and displayed at Carlton House has been reidentified following recent scholarship on Nuremberg makers' marks. Queen Charlotte, wife of George III, emerges as the discerning collector of the Augsburg silver-gilt equestrian statue of the Swedish King Gustavus Adolphus, bearing the mark of Daniel Lang and dating from 1634–35. Queen Charlotte is also credited with commissioning mounts for the Viennese rock crystal cup and ewer associated with Queen Caroline of Ansbach.
Kathryn Jones selects an early 17th century écuelle and cover – traditionally given to a mother after childbirth – as her personal favourite; a vehicle for 'a tour de force' of engraving. The Old Testament scenes appropriately illustrate the life of Jacob and his purchase of Esau's birthright for a mess of pottage.
European Silver in the Collection of Her Majesty The Queen by Kathryn Jones is publihshed by the Royal Collection Trust.
From the February 2018 issue of Apollo. Preview and subscribe here.
Recommended for you